A child's bedroom is the only area of the house that they can truly called their own.  Parents want to create a special place for their young child, a place that the child will love to play and sleep in.  Of course, there will be different decor for boy's and girl's bedrooms, however both can take just as much planning and thought to get just right.  Here are some of our favorite images of Small Bedroom Ideas For Boys.  We hope you spot something that will inspire you to make your little boy's bedroom his favorite place in the home.
This narrow small bedroom still has enough space to fit two beds, a wardrobe and five drawer combo, a six shelf and four drawer combo.  This small bedroom is a great example of how to use all the free space in a small area.
Great use of high spaces in this bedroom.  There are so many storage shelves here which is making the bedroom look very neat and tidy.  They are maximizing storage space very well in this bedroom.
This loft bed is a great choice for young boys.  Young boys love to sleep on the top of a bunk bed, however with this loft bed you can have a study and homework area underneath the bed.  Loft beds are great for using the upper area of a small bedroom.  I also really like the look of that folded up mattress, making a really comfy chair.  To have a look at some loft bed reviews suitable for small spaces, follow this link.  Loft Bed Reviews
Stripes give the illusion of  length and width in a room.  A nice way to make a small boys bedroom look and feel larger than it really is.
Plenty of stylish shelves for added storage on the walls.  This room appears to have a mattress on top of a set of drawers.  A clever use of space.  The bright colors also give this small bedroom an open and more spacious feel to it.
Not the smallest boy's bedroom but it does look nice.  The back of the room is the focal point of the bedroom.  It isn't hard to see that this kid is interested in motorcycles.  Of course, this room could have any theme and still look great.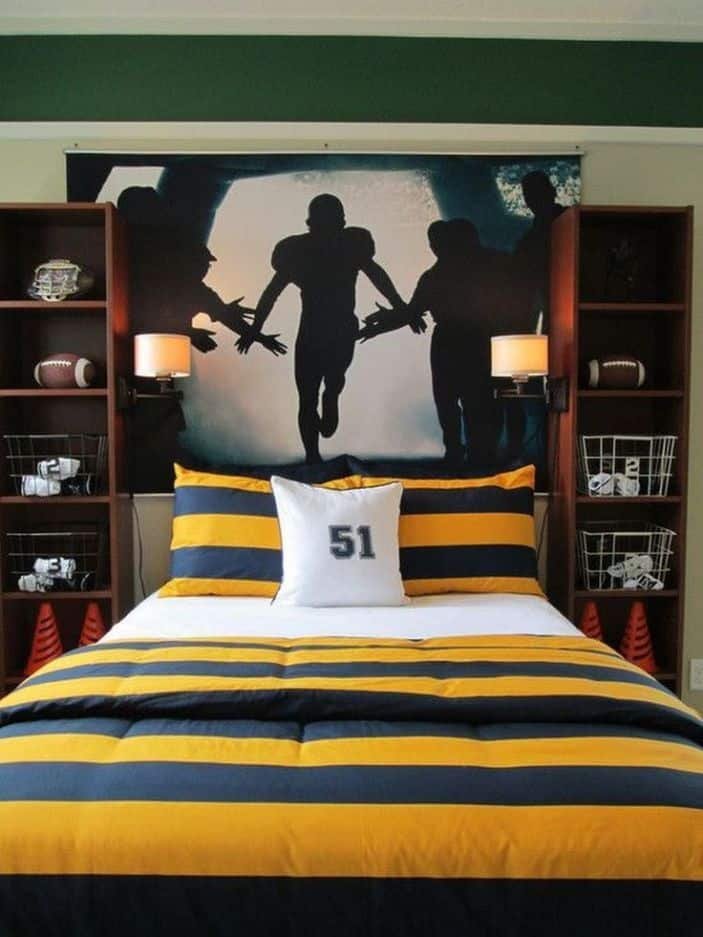 An American Football themed bedroom that has two nice and tall shelves on both sides of the bed.  It not only looks stylish but also makes good use of the upper areas of the room for storage.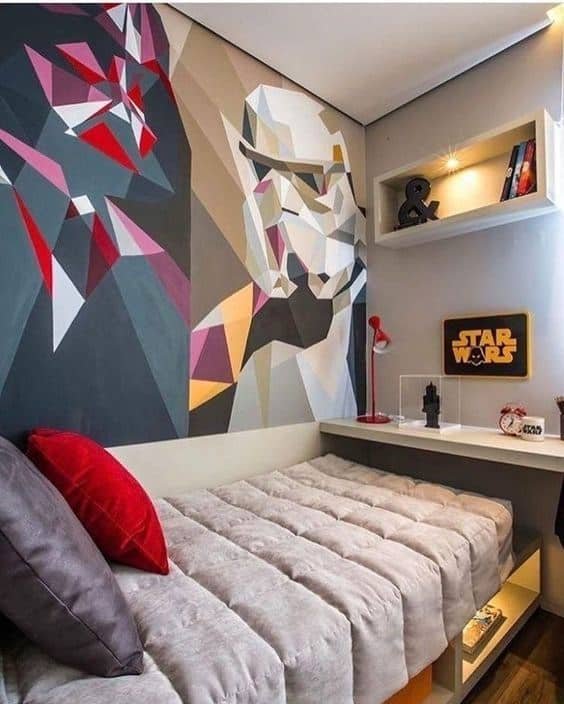 This tiny boys bedroom is packed with character.  A beautiful Star Wars painting on the wall makes this tiny room come alive. I like the little desk on the wall at the end of the bed as it makes use of a small area that would normally be forgotten about.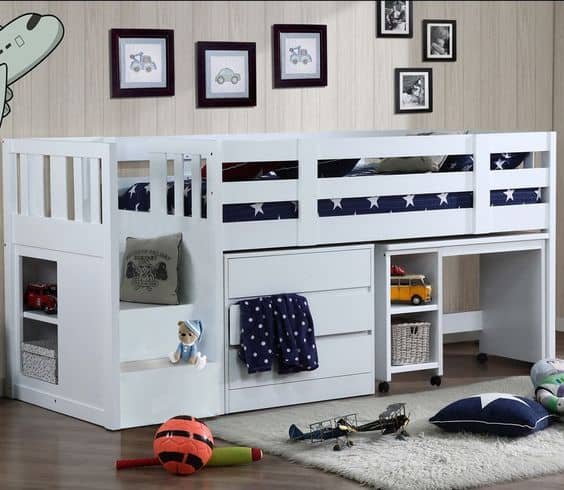 Cabin beds are awesome beds for any room but they are especially valuable for small spaces.  A good quality cabin bed can pack all the furniture a room needs into one compact space.  To check out some quality cabin beds reviewed in another article, follow the link.  Cabin Bed Reviews
A very nice use of the wall above the bed for extra shelve space.  This appears to be a daybed which can be used to sleep on or sit on during the day.  It also has drawers underneath for extra storage space.  This room looks like I nice student room.  If you would like to read some reviews on day beds, click here.  Day Bed Reviews
I love loft beds and this one looks great!  Loft beds are fabulous for small bedrooms as you can see that it adds so much more free space to this room.  This loft bed is a double bed and with lots of room underneath it, it has enough space as a study area and a chill out area.
If you would like to see some loft beds we reviewed then have a look at these Best Loft Beds For Small Spaces.
A room within a room.  This bedroom may not be the smallest in this list but it does look fantastic.  Once again, this room uses the upper area of the bedroom to sleep and then underneath the bed is a study area.  Lovely shelves under the stairs also.  This bedroom would be great for a teenage boy.
Superb earthy tones, brighten up this small bedroom.  A daybed with drawers underneath can be used as a sleeping area and a comfortable seating area.  The shelves on the wall look great but so high.  I imagine the top shelf will not be used very often!  Day Bed Reviews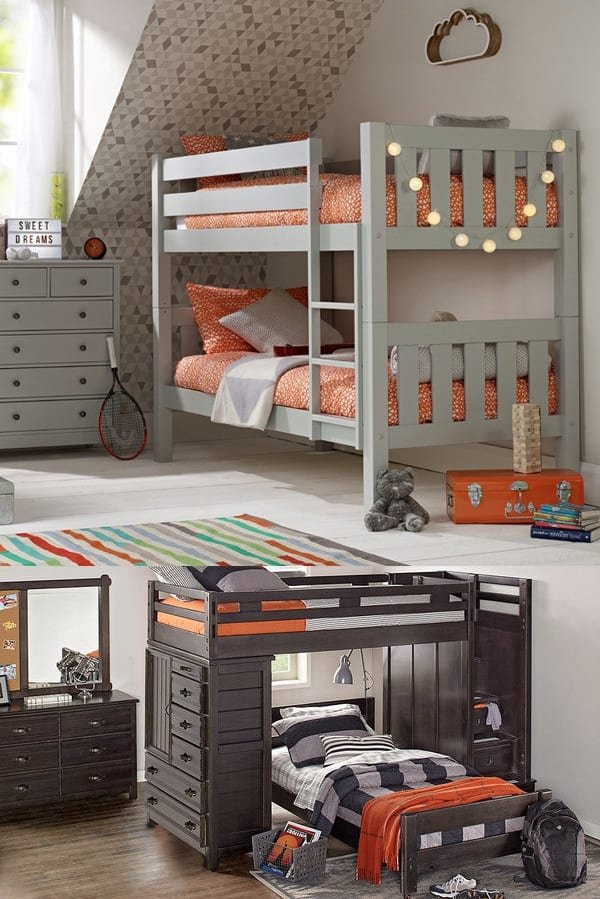 When there are two boys sharing a small bedroom, a bunk bed is a great way of sleeping two in the same footprint as sleeping one.  As you can see in these two images, there are different types of bunk beds to choose from.  Bunk beds can be as simple or luxurious as you want.  Have a look at these bunk beds to see if they would be suitable for your boy's bedroom.  Bunk Bed Reviews
I love the color of this room and the blue would be a favorite for most boys.  The daybed has a pullout bed for whenever a friend is going to sleepover.  Daybed Reviews
The different shades of blue also makes this room a lot more appealing.
A light beige bedroom giving a bright open feel to the room.  The stripes on the wall make the room look wider than it's measurements.  I really like the shelf design for added storage.
The different shades of brown tones really give this room a modern, stylish look.
A neutral gray color gives this small bedroom a modern, mature look.  Maybe this style is for a student, older teenage but it is full of class.
A daybed with extra bed and drawers underneath makes use of a small area.  The three box shelves add style and a real designer look.  The floor to ceiling wardrobe is another great addition for a small room.  I love that round chair also!  Tall Wardrobe Reviews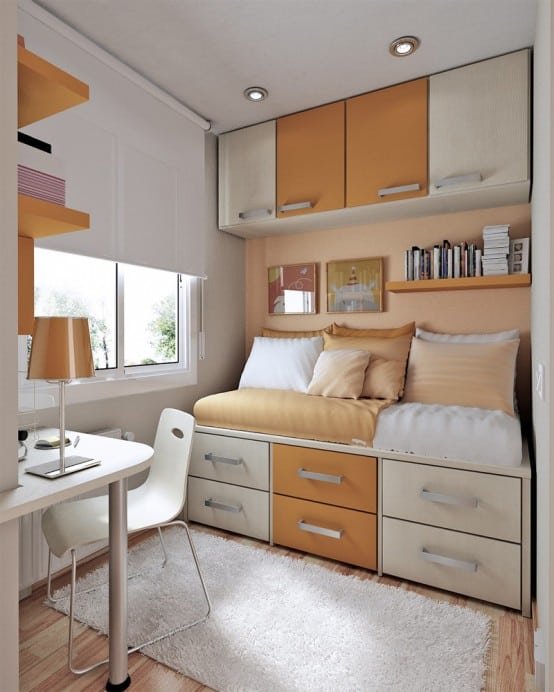 A wonderful example of how to fit so much into a small bedroom.  A high daybed with plenty of drawers underneath.  A row of closets up by the ceiling, taking advantage of free space above the bed.
I like the corner desk for a laptop, homework, studying etc.
To have a look at some of our favorite computer desks for small space, click here.  Computer Desk Reviews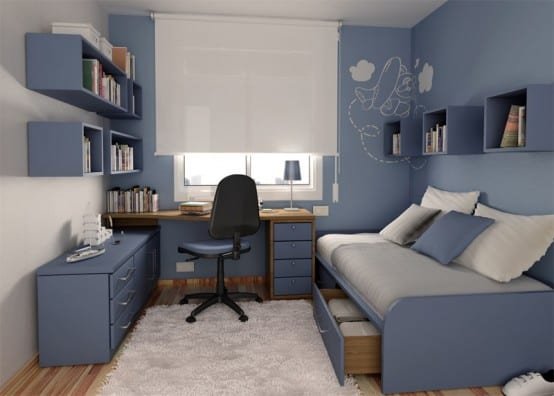 This gray and blue color looks fantastic.  It has a simple, stylish feel to it.  The square shelves appear again.  They are really simple yet add a of of class to the room.
A double bed daybed with large bottom drawer fits great in this tiny bedroom.  I also really like the dresser in the corner.
To find dressers that look like this one, check out our Dressers for Small Spaces Reviews, here.
There is that round shaped chair again.  Looks comfortable and fits nicely in a small room.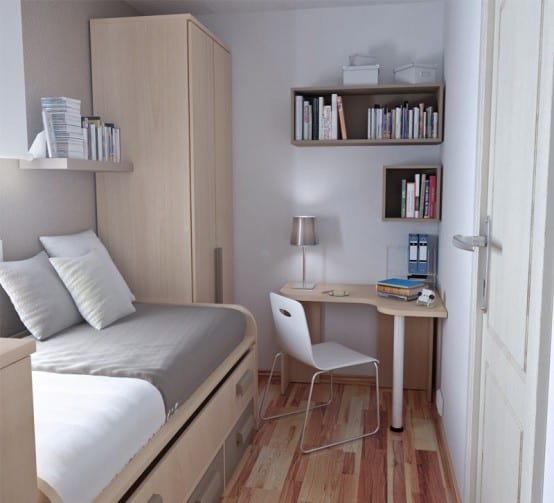 A really tiny bedroom but still has everything you need.   A tall wardrobe, a corner desk, a daybed with drawers underneath, wall shelves and a dresser.  What more would you want.
To see some furniture like this, check out these review articles :
Daybed With Large Drawer Underneath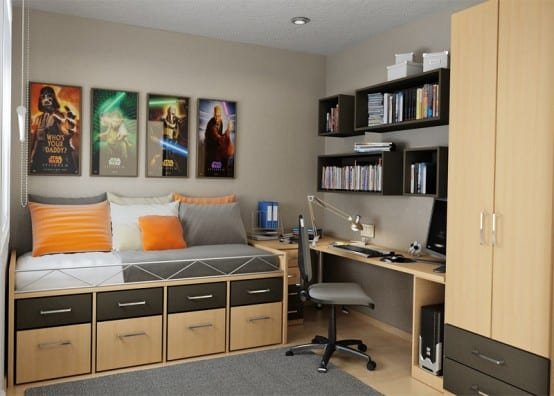 Another Star Wars themed boys bedroom.  The gray, orange and brown tones really go nice together. The daybed, nightstand and study desk fit neatly together and look awesome.
To have a look at a choice of stylish nightstands that are suitable for small bedrooms make sure to check out these reviews: Small Nightstand Reviews
Bright colors, shelves on the walls, bed raised over a closet and drawers.  This person is making great use of a small space.  However, I wouldn't like to roll over in my sleep on that bed.  It looks like it could do with some safety bars!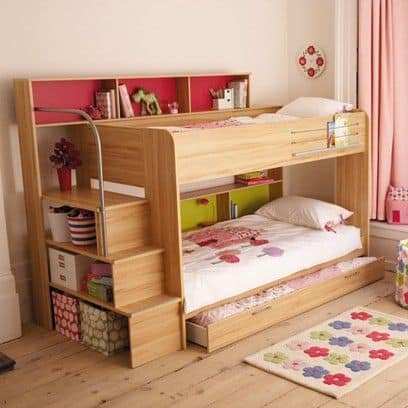 This image may not show a classic boy's bedroom, however it does show an awesome bunk bed.  Bunk beds are great space saving beds and are a must for small rooms that have two sleepers.  I really like this bunk bed because of the box style stairs.  Not only is it comfortable to climb but it also doubles up as a storage space.  Bunk Bed Reviews
I hope you found these images on Small Bedroom Ideas For Boys helpful and were able to get some great ideas on how to decorate your boy's bedroom.