Sometimes we need a few ideas to get our imagination working and that is why seeing other people's awesome bedrooms can give us plenty of ideas to design or decorate our own.  Just like a previous article on the 25 small bedroom ideas for boys, this article is dedicated to the girls.  Some of these images can be for either gender, however we have looked for bedroom images that look more typically feminine.
Without further ado, check out these 25 Small Bedroom Ideas for Girls and get planning.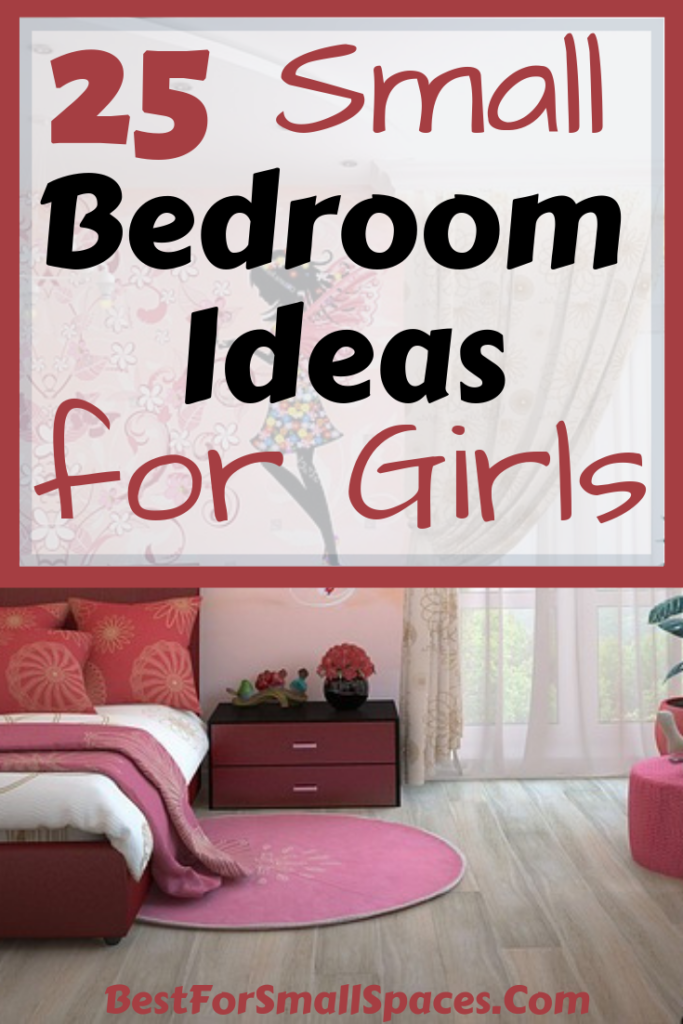 Blue for boys?  Not here!  This single small bedroom has some real feminine qualities.  It is simple but very stylish and classy.  I really love the bright trunk at the end of the bed.  It is great for added storage but also looks fabulous!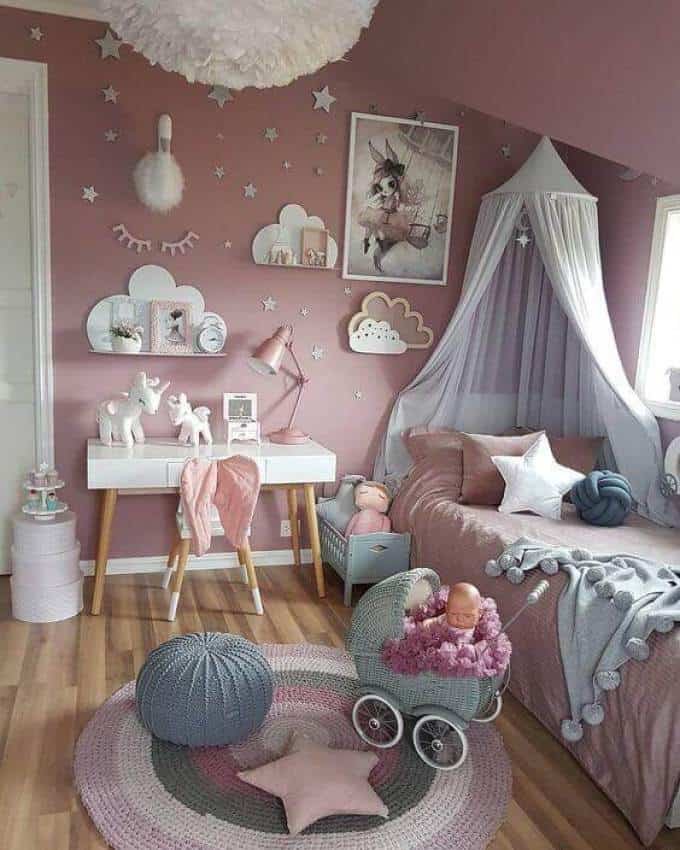 I love everything about this room and I am sure every girl would love it too.  A lot of imagination has gone into the wall display and it works perfectly.  The little vanity table is very pretty also.  To see some vanity tables like this, click here.  Vanity Tables For Small Bedrooms
A gray twin bed small bedroom with a string of lights draped on the wall, some lovely black and white framed pictures that add some style and match the gray walls so well.  A lovely star as well!
A loft bed is a wonderful addition to any small bedroom.  A loft bed uses the valuable free space in the upper area of a room, leaving some much needed free space underneath.  This free space can be used as a study area or as in this image used as a play area.  If you want to see some cool looking loft beds, then check out these reviews here.  Loft Beds For Small Bedrooms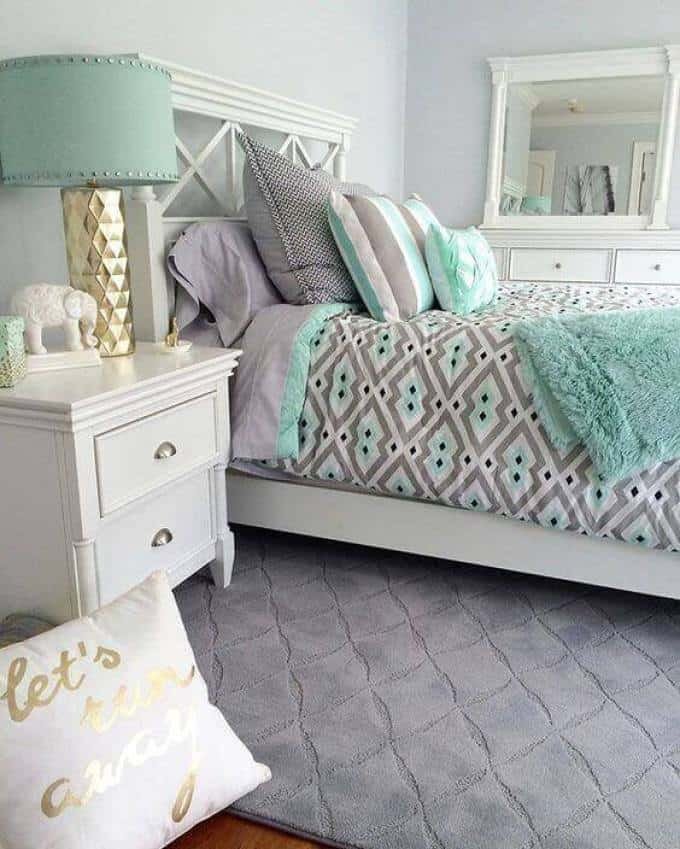 I really like this simple but classy design.  The gray, green and white colors really match well.  I love the white nightstand and dresser combination and the ornament and light are a great touch.  If you would like to see some beautiful nightstands suitable for small rooms, follow the link.  Small Nightstands
A fairy tale little bedroom.  There looks like a lot of love in this girl's bedroom and it looks so pretty.
Might look like a regular bedroom but the lights around the wall makes it stand out.
A lovely simple gray and pink design.  This color combo really works!
A nice simple pink room with a string of Christmas style lights on the back wall.  The lights are cheap but can make a plain room look so much better.  I like the two stacked shelves on both sides of the bed.  They add some valuable storage space in a small room.
You can't see a bed in this bedroom, however what you can see is some fantastic furniture.  Not only are the colors beautiful but the chair, stool and vanity table top it off.  To make a beautiful small bedroom for girls , you don't need extravagant furniture.  Just choose the right color combination, find some simple furniture and it can look so right.  Vanity Table Reviews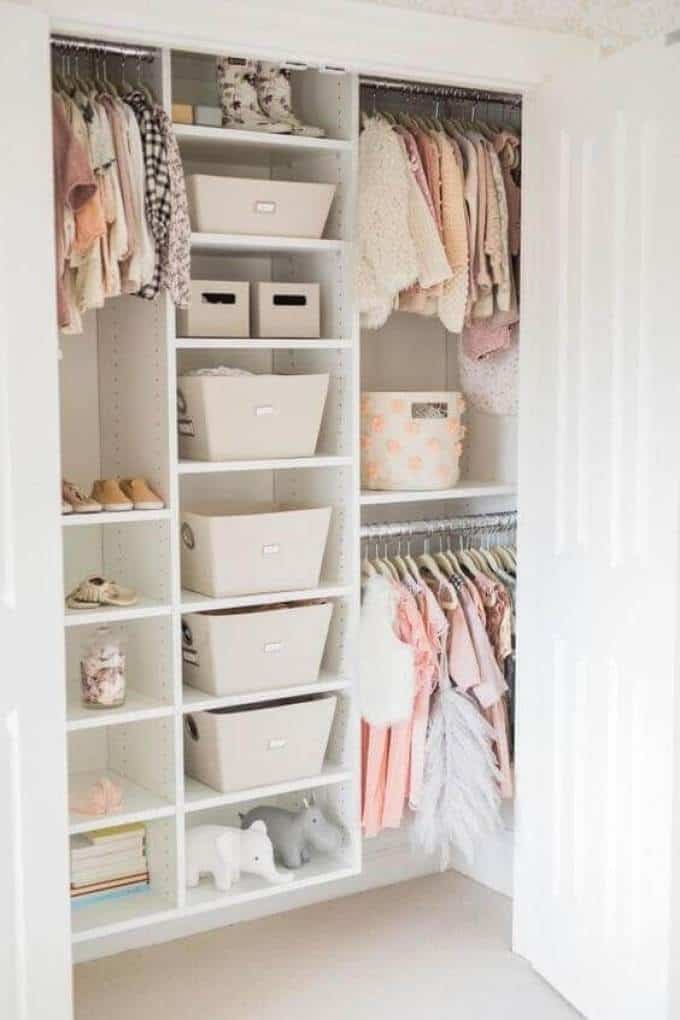 Typically girls may have more clothes than boys so it is important to have the right storage area to neatly store the clothes.  A clothes organizer can be a great tool to avoid messing up a small room.  Check out a clothes organizer that looks like this one here.  Clothes Organizer Review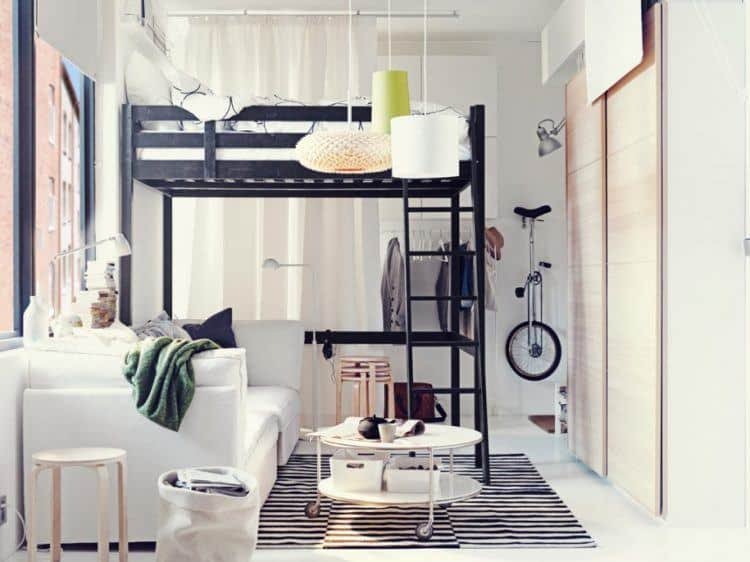 A beautiful bright small bedroom that uses free space very efficiently.  Once again, a Loft bed works great here.  It is a simple loft bed but it blends in nicely with the minimalist design.  I like the white sofa under the loft bed.  It is simple but classy.  It could be a sofa bed or a day bed for an extra sleeping area.
A retro style bedroom.  I love the built in shelves on this bunk bed.
A narrow room with a custom made bunk bed.  Simple but nice.
A beautiful pink bedroom with plenty of storage shelves. The vertical stripes make the walls look taller.
A simple but pretty kid's bedroom.  The matching white bunk bed and nightstand looks great.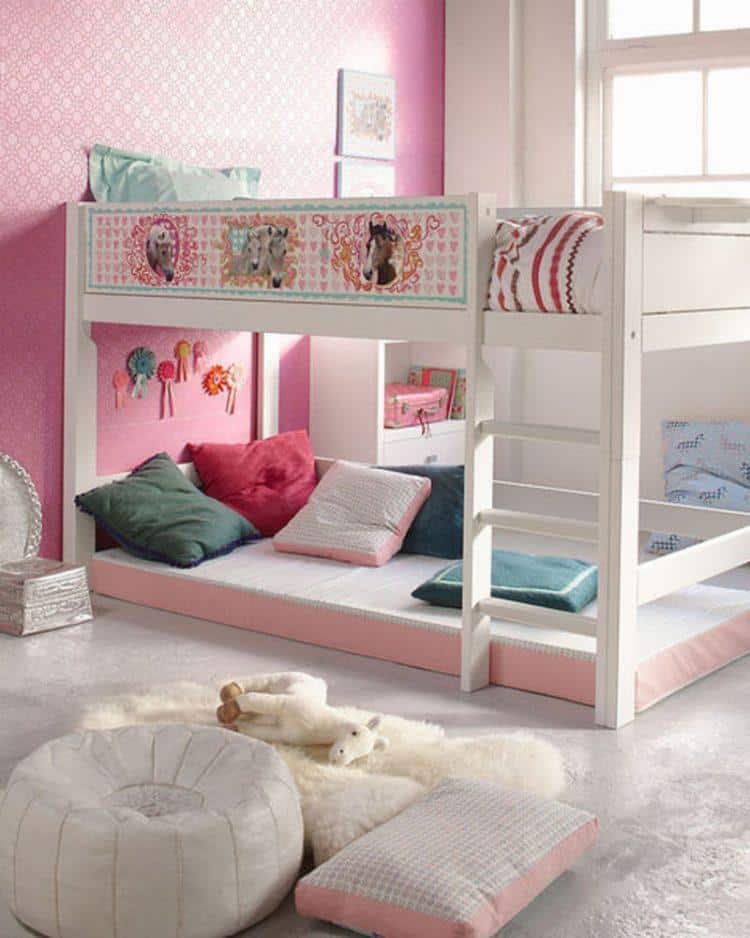 What I find interesting about this bedroom is the white loft bed that has a mattress underneath.  It looks quite nice and will be great for any sleepovers but also comfortable to relax on during the day.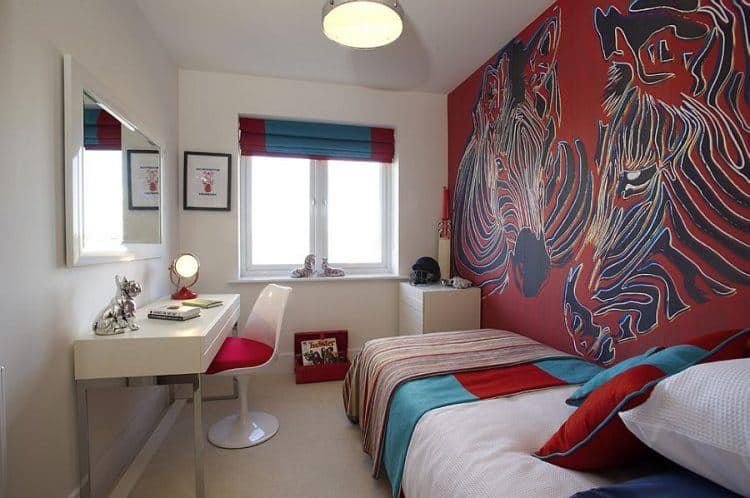 A wonderful artistic accent wall that transforms a relatively plain room.  This image shows that if you have or if you know somebody has artistic talent, you can really make a room turn from average to amazing.  A small desk, a matching color small nightstand and a cool chair is all that is added to this room and it still looks great.
This room looks more like a one bedroom apartment than a single bedroom but it still caught my eye.  I really like the custom made drawers in the cavern style bed.  No need for a bed frame, just place the mattress on top of the drawers.  A curtain divider can also be simply installed to divide the bed from the rest of the room.  Have a look at these curtain room dividers here.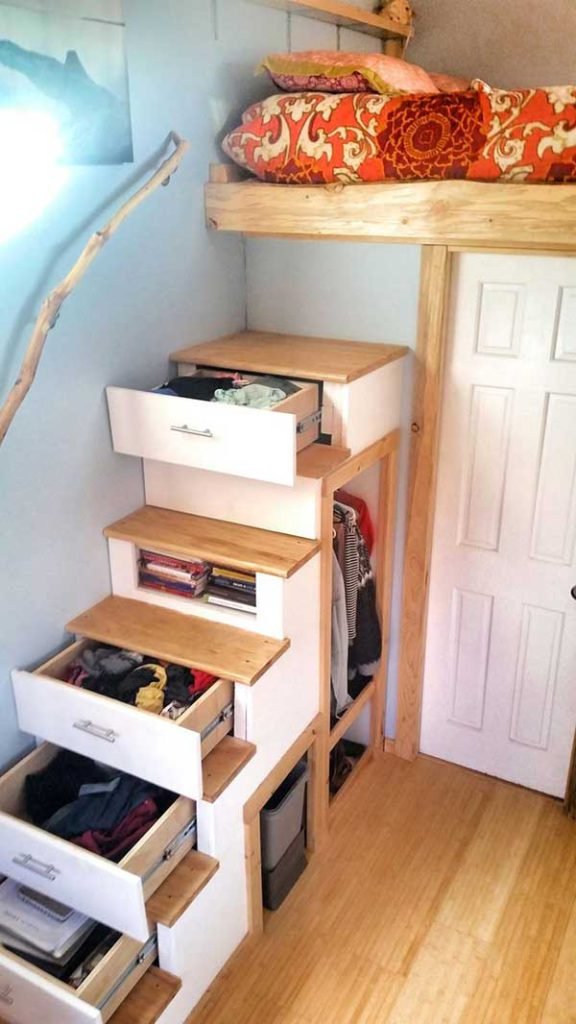 I love the clever use of this bedroom.  The bed is over the door and a stairway to the bed has shelves in each step.  A single wardrobe at the end is very useful also.  The natural branch wood banister adds to the rustic feeling of this bedroom.
A plain white single bedroom, however the colorful chairs and colorful painting brings some life into it.  It may not be to everyone's taste but a plain white room can be transformed with some colorful accessories added to it.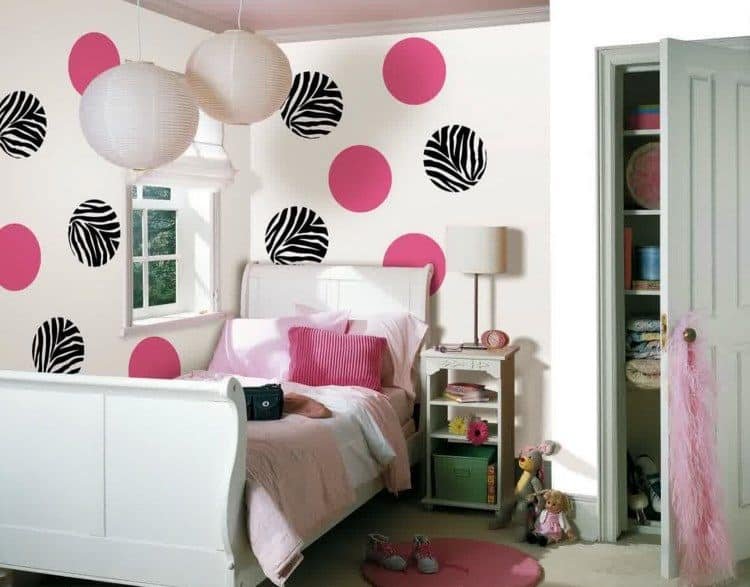 A pretty girls bedroom with polka dot walls.
I love the snow village decoration above this bed.  It really adds a Christmas feel to the room.
An easy way to get creative with your small space is to drape some Christmas style lights along the walls.
Some people express themselves with tattoos on their skin.  You can also express yourself by displaying writing on your bedroom wall.  Writings on bedroom walls do not need to be permanent so you can change them when you feel like seeing something new.  Writing can be very inspirational, especially when it is the first thing you see every morning.  It can really start your day off well.
We hope you found these 25 Small Bedroom Ideas For Girls helpful and were able to get some creative ideas for your own bedrooms.