​A small bathroom may have less square feet than a larger one, however what it does lack in size, it can make up for in appearance.
Whether, it is a small bathroom, half bath or powder room, with some imagination, care and attention, it can be the best looking room in the house.
Have a look at some of these decorating tips and ideas to make your small bathroom look and feel bigger.
This page contains affiliate links. We hope you love the products we recommend but just so you know, if you purchase a product from one of our links below, we may receive a small commission. Details here.
Brighten It Up:
By adding some more lights to your bathroom you will brighten the area up and create the illusion of extra space. A brighter room looks lighter and more spacious, where as a darker room (although more cozy) has a more claustrophobic feel. Which leads us onto the next tip.
Soft Colors:
Just as more light will add the illusion of extra space to a small room, lighter shades of color will also make a room feel larger.
Darker colors make a room feel warm and comfortable, however they also make it appear smaller.
A lighter shade may not feel as warm, however it does make the room look more open and airy.
Add Some Mirrors:
​Large mirrors in a small room may seem counter intuitive, however sometimes bigger is better.
Mirrors add the illusion of depth to a room and make a small bathroom appear larger than it actually is. A mirror will also reflect the light around the small bathroom, giving an even brighter feeling.
Natural light is always better, therefore if you have a window in your bathroom, make use of the natural light reflection by positioning the mirror near the window.
Make Use Of Valuable Corner Space:
When it comes to making the most of small spaces, corners are often forgotten about. There are several pieces of bathroom furniture of different sizes that can snugly fit in a vacant corner.
A mirrored bathroom cabinet, specially designed for corner spaces, is a perfect example of a dual-purpose piece of furniture, ideal for corners.
Or how about a corner shaped bathroom sink, perched on a pedestal or even wall hung in a corner.
If you have enough space, a corner bathtub would be a luxury item in a small bathroom and wouldn't take up that much extra space compared to a regular shaped bathtub.
Tiles:
Tiles can really make a difference to the look and style of a small bathroom.
Of course, which style of tiles would look the best in your bathroom is a personal choice.
However once again, bright colored tiles can make your small bathroom appear larger than it actually is.
Bright colored tiles fitted on walls and the floor, can make both the walls and floor appear bigger.
Also, a larger tile can work better in a small bathroom. Larger tiles, mean fewer tiles and a less cluttered wall and floor. Larger tiles can give the illusion of a larger space.
Alcove storage:
Adding to the minimalist feel, having alcove storage cabinets can make a small bathroom feel larger by taking up less space. The cabinet is inside the wall, so a real space saver.
Multi-purpose alcove cabinets usually have a mirror on the door, therefore you get the benefits of a mirror and cabinet without taking up any extra space.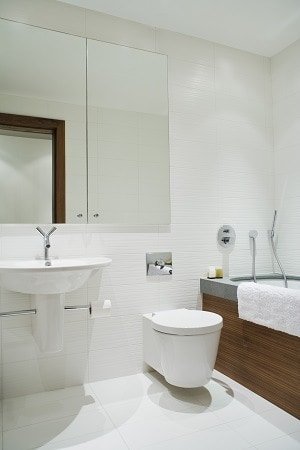 Minimalism:
Minimizing the amount of furniture in a small bathroom will free up some space and make it feel larger. This is even more the case when it comes to ground space.
Mounted wall hung toilets and sinks can free up valuable ground space and give your small bathroom a more open and spacious feel.
Shelves:
Mounted shelves on upper areas of the walls are not only great as a storage solution but also make use of the valuable upper area of a small room.
A shelf that is higher up the wall, frees up space lower on the ground, making the room feel less cramped.
Multi-Purpose Furniture:
Multi-purpose furniture is king when it comes to small spaces. In a bathroom, mirrored cabinets are perfect for getting the benefits of a cabinet and a mirror, without having the footprint of both.
Another useful piece of furniture is a bathroom vanity, which is a cabinet and sink, all in one. An over the toilet cabinet is another great way of getting some extra storage space.
Rustic style:
​Adding wood to your small bathroom may not make it feel bigger, however it can give it an earthy, rustic feel.
Wooden shelves, wooden cabinets, wooden frames on mirrors, a wood shower mat and even a wood shower chair can all give a rustic feel.
Also, adding some brown paint or brown tiles can really make a bathroom feel rustic.
Designer piece:
Maybe one piece of furniture can make a difference in your bathroom. A modern designer bathroom sink can be a real game changer in a plain looking bathroom, or it can be the cherry on top of a great looking one.
---
These are just a few ideas to spruce up a small bathroom and also make it appear larger. Just trying out one or two of these tips can make a real difference.