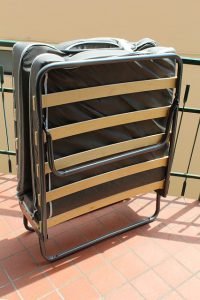 Dual purpose furniture and folding furniture are great space saving items to have in any small home. Here at Best for Small Spaces, we highly recommend using dual purpose furniture, like sofa beds or storage chair/benches, as a way of getting the benefits of two types of furniture in one piece. Folding furniture is another type of furniture that really benefits people living in small spaces. By folding up a bed when not in use, it will take up a fraction of space during the day. A fold up bed can also be a great guest bed when you have visitors staying the night. In this article, have a look at our choices of the best fold up beds for small spaces 2019.
This page contains affiliate links. We hope you love the products we recommend but just so you know, if you purchase a product from one of our links below, we may receive a small commission. Details here.
---
Last update on 2020-01-18 / Affiliate links / Images from Amazon Product Advertising API
---
Our No.1 Choice Folding Bed For Small Homes
Milliard Premium Folding Bed with Luxurious Memory Foam Mattress – (No Assembly Required, Just Screw in the Wheels and Go) – 75″ X 31.5″
The Milliard Folding Bed is our No.1 choice because of size, comfort and quality. We really like the construction of this bed because it is made with high quality steel tubing and a reinforced base for added support (without the feeling of bars and ridges sticking into your back). The bed comes with a 4″ premium, medium firm, memory foam mattress that makes for a comfortable sleep.
We also like the fact that this folding bed is pretty much ready to use on arrival. All that needs to be done is a 5 minute attachment of the wheels (no tools needed), and the bed is complete. When folded up, the bed is no more than 12″ thick, making it ideal for storing away and freeing up much needed space in a small living area.
The bed comes with 360 degree pivoting caster wheels allowing ease of movement, and when stationary, two wheels lock in place. When the bed is parted, the legs automatically fold out, making a ready to sleep memory foam bed.
The Milliard Premium Folding Bed is lightweight, very comfortable, easy to store and assemble. If needed for stay over guests or even for dorm rooms or small apartments, then this folding bed is a great option.
Description and Measurements
Full-metal bed frame with double-reinforced stabilizer bars

Memory foam mattress (medium firm feel) with an extra-soft removable cover

Supportive trampoline bed base

Clamshell folding for easy opening and closing, and can be used with other mattresses

Minimal assembly with no tools (j

ust attach the wheels and its ready to use)

Super strong for adults

Bed dimensions: (L 75″ x W 31.5″ x H 16″)

Compact: Folded, its just 12″ thick

Weight limit: 300 lbs
Milliard Premium Folding Bed with Luxurious Memory Foam Mattress
Best Hideaway Bed For Small Living Spaces
iBED Hideaway Guest Bed
If you are looking for a fold out, light weight, slim but comfortable bed that is excellent for storing away, then the iBed Hideaway Guest Bed may be what you are looking for.
This fold up bed is only 5.5 inches thick when compact, therefore, is super easy to store away in a closet or under another bed. Even though the mattress included is only 2 inches thick, it gives a surprising level of comfort. We really like the spring and mesh supported base, that gives great support without having bars sticking into your back. The slim mattress and mesh base gives a great support and comfort combination.
The metal frame is strong and sturdy for such a light weight bed and is ready to use on arrival. iBed have made a really good quality hideaway bed, that passes the test for comfort, sturdiness and durability.
Description and Measurements
Hideaway guest bed

Durable and sturdy tubular steel bed frame

Includes surprisingly comfortable 2″ foam mattress

Ready to use on arrival

Unfolds and folds up in seconds

No assembly required

Compact: 5.5″ thick, for easy storage in a closet or under a bed

Spring supported flexible mesh contours to the body without any uncomfortable bars
Measurements: 32″ x 74.5″ x 13″
Weight of item: 26 lbs
Weight limit: 275 lbs
Includes storage bag
iBED Hideaway Guest Bed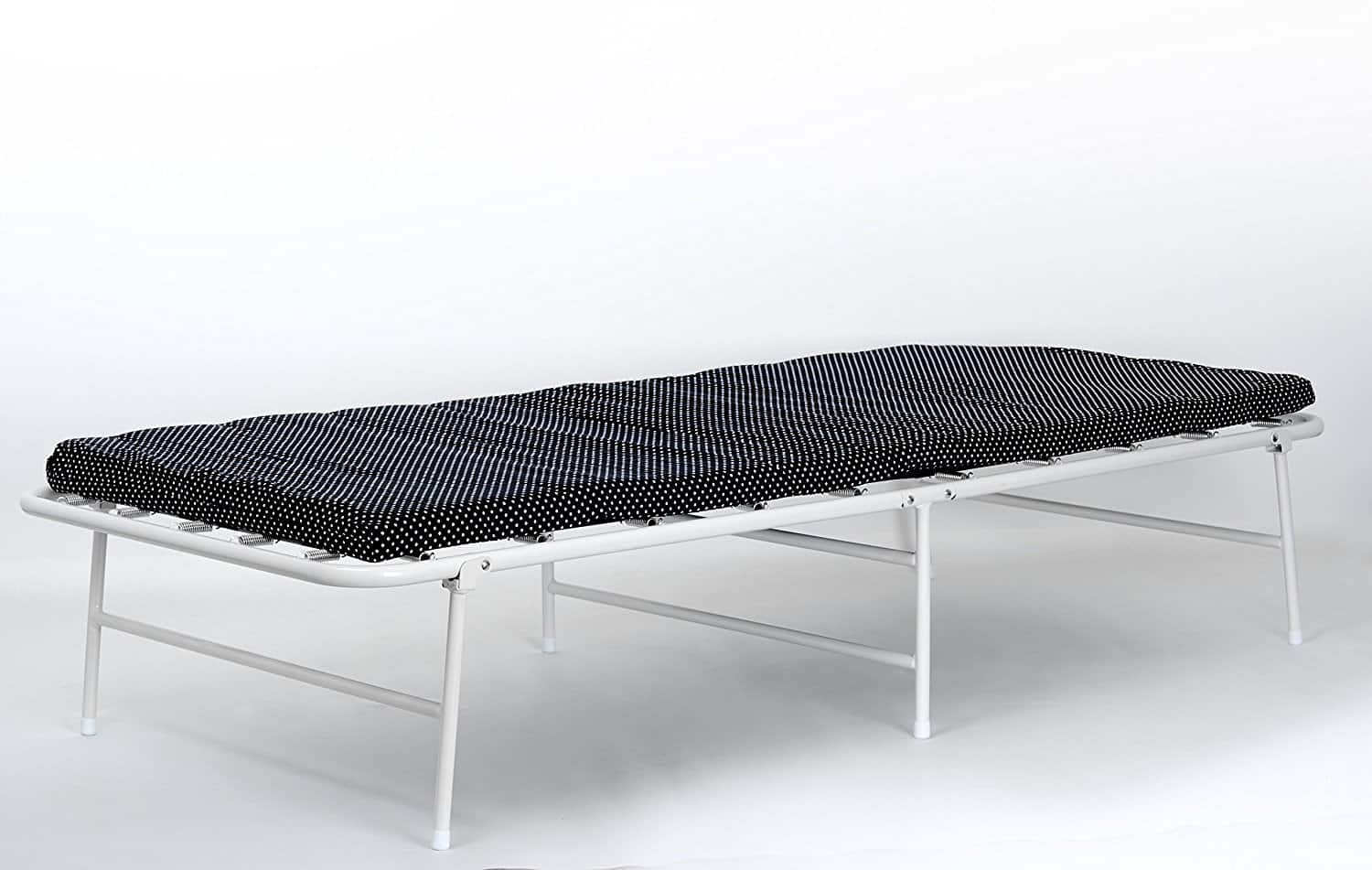 Top Fold Out Mattress Bed For Small Dorm Rooms
Milliard 6-Inch Memory Foam Tri-fold Mattress with Ultra Soft Removable Cover with Non-Slip Bottom
The Milliard 6″ Memory Foam Tri-fold Mattress is yet another type of fold up bed that can be used during the night and stored away during the day. Unlike the fold away beds above, the Milliard Tri-fold bed is only a mattress, however, what a mattress it is. The mattress is made with a 4.5 inch foam base to give superior support, and on top of the base is 1.5″ of 3lb luxurious memory foam for that added comfort. Overall, this combination gives more than enough comfort and support for a great night's sleep. The mattress uses certified CertiPUR-US® premium memory foam, therefore, good quality is assured.
A floor mattress like this one solves the problem for people that do not want to purchase a bed for a small room. If space is limited in your dorm, apartment or bedroom, then folding this mattress up and storing it in the corner is a great way of freeing up space during the day. It is also great for stay over guests. It is simple to set up and store away, making the Milliard Tri-fold mattress a very comfortable and convenient option for those looking for a fold up bed.
Why not check out some of the very positive reviews on this fold up bed for small spaces, right here.
Description and Measurements
Queen or Twin size

Milliard tri-fold mattress is ventilated for air flow, to help regulate sleep temperature for premium comfort.

1.5″ of 3lb luxurious memory foam top

4.5″ supportive foam base

CertiPUR-US® certified premium memory foam

High density construction that will not lose its shape.

Removable jacquard ultra-soft bamboo cover with anti-slip bottom included

Mattress unfolded measures 78″ x 38″ x 6″

Mattress folded measures 38″ x 26″ x 18″

Weight of mattress: 27.5 lbs
Milliard 6-Inch Memory Foam Tri-fold Mattress
Best Fold Out Sleeping Bed For Small Rooms
Handy Living Folding Ottoman Sleeper Bed
Here at Best For Small Spaces we do love dual purpose furniture when it comes to making the most of small living spaces. For this reason we had to add in the Handy Living Ottoman Sleeper Bed. In a nutshell, this sleeper bed is a comfortable bed by night, and during the day it transforms into a nice little ottoman chair.
First of all, the bed is made of sturdy steel and is already assembled. The mattress is a slim 2″ thick, however it is still comfortable, although quite firm. The bed is constructed solidly to hold 300 lbs in the sleeping position.
The real beauty of this folding bed is that when the bed is folded up fully, you can put the polyester fabric slipover cover (included) over it. When the fabric cover is over the folded up bed, you have an ottoman chair to sit on, a leg rest or even a makeshift coffee table. We really love the versatility of this multi purpose piece of furniture.
If this sleeper bed combination is what you are looking for to make best use of your small living space, then we highly recommend the Handy Living Folding Ottoman Sleeper Bed.
Description and Measurements
Colors available (covers) : Caribbean Blue, Charcoal Gray, Gray/Brown, Tobacco Brown

Ottoman Sleeper Set includes a bed frame, mattress and ottoman cover

Sinuous Spring base

Foam Cushion

100% Woven polyester fabric cover

Sturdy Steel frame Construction

No assembly required

By day, use it to sit on, or put your feet up
By night, a comfortable bed
Fold out bed size: 75.2″W x 26.8″D x 15.4″H
Ottoman size: 26.8″W x 27.2″D x 15.4″H
Weight: 43 lbs
Weight limit: 300 lbs
Handy Living Folding Ottoman Sleeper Bed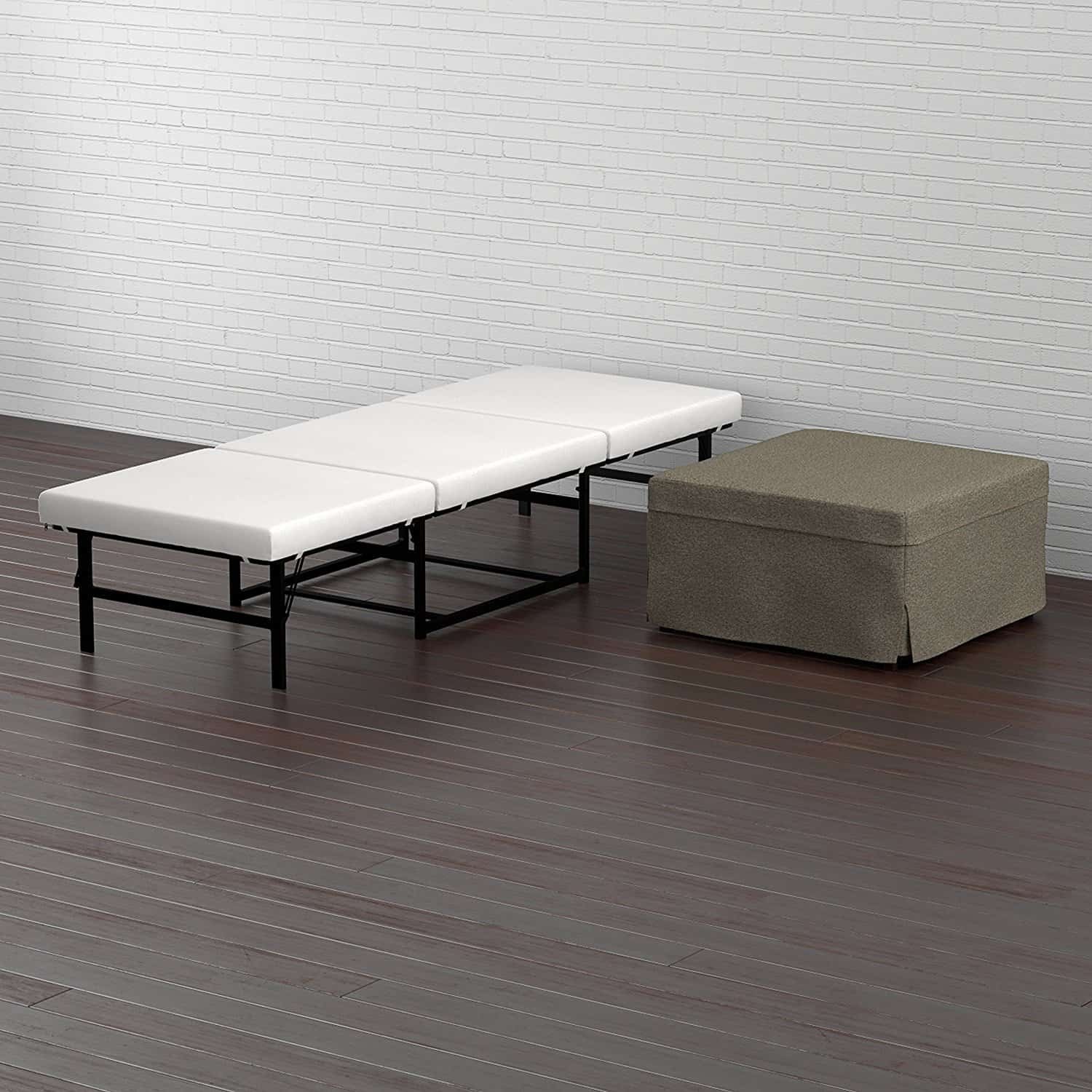 As you can see, there are a wide variety of different types of fold up beds to get for a small living space. Some are larger than others and some store better than others. If you are looking for a fold up bed for your small space, then we hope you found this article on the Best Fold Up Beds For Small Spaces 2019 helpful. We are sure that either one of these types of folding beds would look great in any small room.