Sofa beds are dual purpose furniture that can be used to sit and relax on during the day and used as a bed to sleep on at night.  This can be very beneficial for a person that lives in a small apartment, like a studio, as they will get the benefits of a sofa and bed without having to buy them both.  This is good for the pocket and good for saving space, so it is a win win situation.  In this article, we will be looking at three of our best sofa beds for small spaces 2019, so that you can decide which one will be suitable for your small home.
This page contains affiliate links. We hope you love the products we recommend but just so you know, if you purchase a product from one of our links below, we may receive a small commission. Details here.
---
Last update on 2020-01-17 / Affiliate links / Images from Amazon Product Advertising API
---
Best Sleeper Sofa With Pullout Bed – under $500
DHP Premium Sofa Bed, Pull Out Couch, Sleeper Sofa with Pull Out Bed, Twin Size, Coil Mattress Included, Sturdy Wood Frame with 400 lb Weight Limit
The DHP Premium Sofa Bed is a two person couch that is ideal for small spaces.  By day it looks like a regular two seater sofa but by night it can easily be converted into a twin size bed.
Assembly:
When the sofa arrives, it will have to be assembled, however assembly is quite simple.  One person should be able to complete assembly in around 30 minutes.  This space saving sofa bed will arrive in a box that measures 46.5″ L x 30.5″ W x 27.5″ H and will weigh around 140 lbs.
Appearance:
The sofa is made of premium faux leather material and is soft and comfortable.   It is a two seat sofa bed and ideal for small rooms.   The faux leather material looks of good quality and has a nice smooth appearance.
Usefulness:
When the sofa is converted into the bed it has a weight limit of 400lbs.  The mattress itself is comfortable but made with a coil center.  For people that like super soft mattresses, maybe you could consider a foam mattress topper for a softer sleep.  The mattress topper could be stored away when the bed is converted back into a sofa.  It is a small size sofa and perfect for one or two people living in a small apartment.  We like that it is a real mattress and converts to a real bed.  The sofa bed would be ideal for sleepover guests, or for single people in a dorm or studio apartment, however because it is a twin size bed, it wouldn't be suitable for two people to sleep on.
We really like this sofa bed because it is small, looks great and is pretty comfortable.  Reviews on Amazon appear to be very positive.  The mattress comes with the sofa bed and as said above, is a coil mattress.  There were no complaints about the coil mattress being uncomfortable and customers were very happy with the price to quality ratio of this small sofa sleeper.
Overall, the DHP Premium Sofa Bed is our No.1 choice sofa bed for small homes, apartments and dorms.
Product dimensions when open: 45.5″W x 85.5″ D x 35.5″H
Mattress dimensions: 72″L x 37.5″W x 3″H
Sofa dimensions: 45.5″L x 31″W x 35.5″H
Weight limit: 400 lbs
DHP Premium Sofa Bed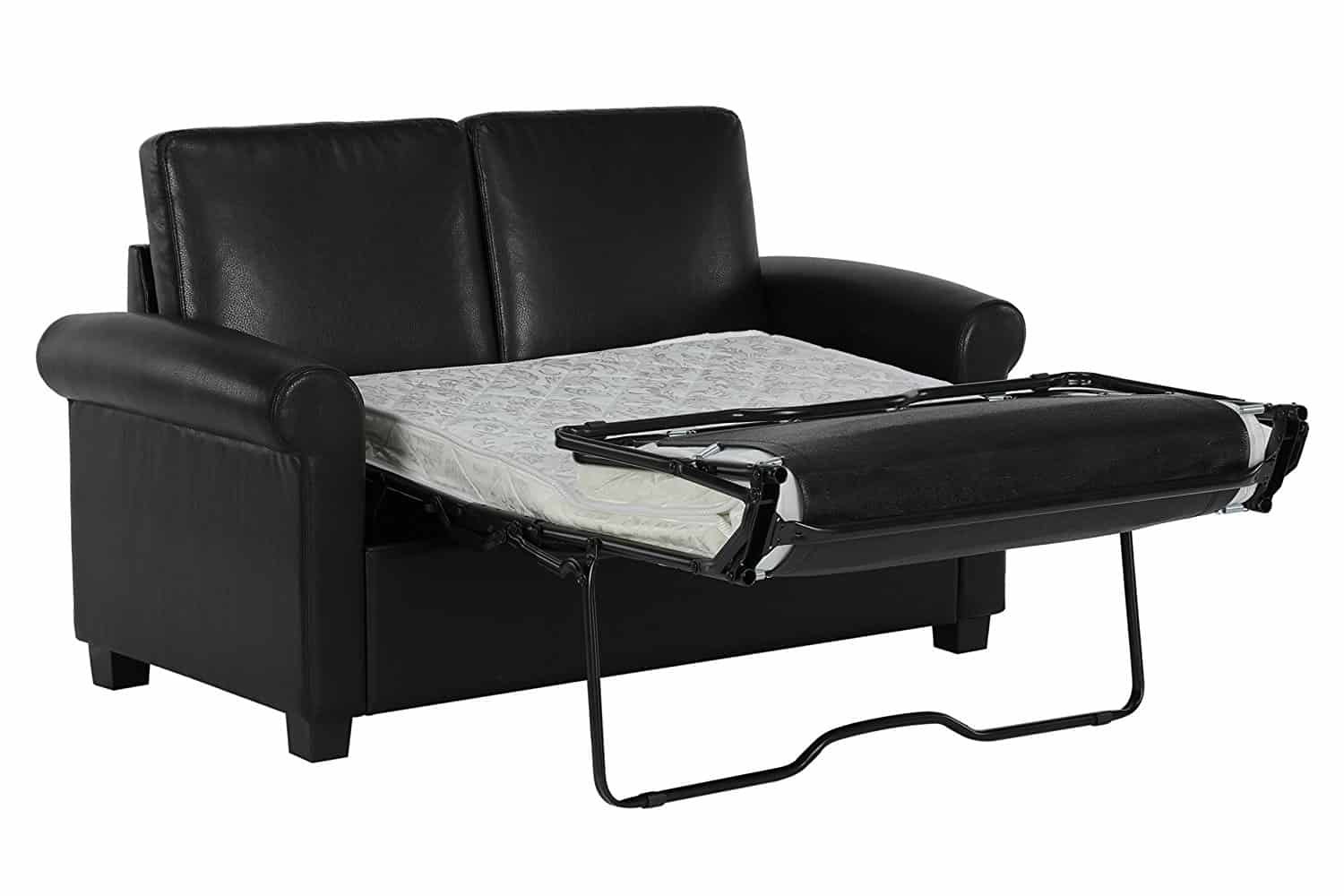 Top Sleeper Sofa For Small Living Spaces – over $500
Ashley Furniture Signature Design – Larkinhurst Traditional Sleeper Sofa – Queen Size -Faux Weathered Leather – Earth
This Ashley Larkinhurst Sleeper sofa is more expensive than the DHP Premium Sofa Bed, however, it is a higher quality sofa bed.
Assembly:
The sofa bed pretty much arrives already assembled and all that needs to be attached are the legs.  When the legs are screwed on and the cushions are placed on the sofa, then it is ready to use.  Shipping weight is 210 lbs, therefore it needs to be delivered inside your home.  If you are an Amazon Prime member, then tell the delivery company that Amazon customers have the sofa bed delivered inside.  This way two delivery guys will come instead of one.
Appearance:
The weathered, earthy look is fabulous and will definitely add a little class to any room.  It is larger than the DHP sofa bed but has a Queen size mattress inside and also is a three seater sofa.   The sofa has reversible cushion seats, allowing you to turn them over every now and again, adding to its longevity.  The mattress is made with innersprings and has positive reviews on sleeping comfort.
Usefulness:
This sleeper sofa is larger than a two seater, therefore it may not be suitable for very small living spaces (check the dimensions below).  The sofa itself is quite firm but has a nice spring to it.  The innerspring mattress is very comfortable and easy to pull out.  Of course, being an Ashley Furniture Signature Design guarantees a classy, quality looking sofa, and I am sure you won't be disappointed with the feel as well.
This sofa bed gets pipped to the number two spot because it may be a little big for very small spaces and at the time of writing was double the price of the DHP.  However, you get what you pay for, so if you want a queen size bed and have that little bit extra space for it, then this sofa bed should be worth considering.  Have a look at what other customers thought of this sofa bed, here.
Sleeper Sofa measurements: 89″W x 39″D x 38″H with a 20″ seat height
Queen pullout innerspring mattress measurements: 60″W x 72″D x 4.25″H
Weight capacity: Item was tested with 500lbs 
Ashley Larkinhurst Traditional Sleeper Sofa
Best Folding Mattress Sofa Bed
Milliard Tri-Fold Foam Folding Mattress and Sofa Bed for Guests or Floor Mat – Queen 78″ x 58″ x 4½" Removable Cover
Not exactly a sofa bed but this Milliard Tri-Fold Foam Folding Mattress certainly could be a very good alternative to one.  This type of sofa bed would be great for a student dorm room, a person on a budget or for someone that needs a bed for a while but doesn't want to buy an expensive one.
Assembly:
No assembly required.
Appearance and Usefulness:
The Mattress is made out of CertiPUR-US® Certified high density foam, therefore it will be quite comfortable.  It also comes with a removable and machine-washable cover.  It certainly will not be as comfortable to lie back on as a regular sofa but for the price, it is very good value for a foam mattress/sofa alternative.

If this type of sofa mattress is what you are looking for then the Milliard Tri-Fold Foam Folding Mattress and Sofa Bed has got excellent reviews for quality and comfort, therefore seems like a very good option.
Measurements: 78″ x 58″ x 4½" (Queen).
Storage Dimensions: 58″x 29″ x 14″
Milliard Tri-Fold Foam Folding Mattress and Sofa Bed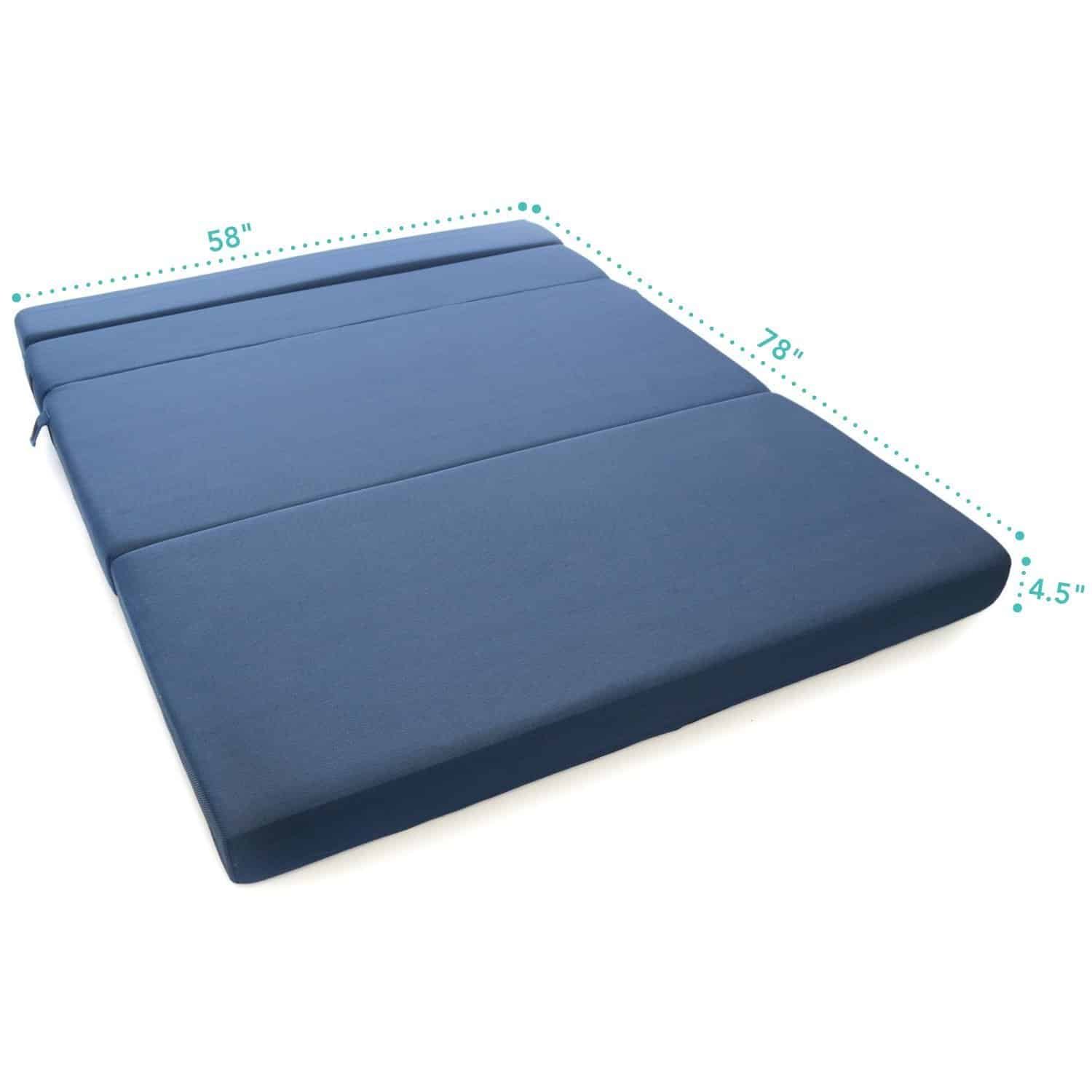 Best Lounger Sofa Bed For Small Rooms
Compact, Comfortable Sleeper Lounger by Kodiak
Whether you want to sit, lounge or sleep, this 3-in-1 multi use lounger is a great choice and ideal for college dorms and small apartments.  It comes in a variety of colors and patterns to choose from and has a modern, classy design.
Assembly:
The lounger is very easy to assembly and the only tools that are needed are provided inside the package.  The shipping weight is 70 lbs.
Appearance:
We really love how this lounger looks and the variety of colors and patterns is fantastic.  There really should be a fabric color available for everybody and one that will match any home decor.  Many of the designs are fun and we believe it would look great in a teen's room also. (The solid colors have a micro-suede feel to the fabric, where as the pattern fabric is flat woven).
Usefulness:
The lounger gets 5 stars for usefulness.  We really like how it is great as a couch for two people when the two armrests are up.  However, if you want to lounge for awhile then by releasing one of the arms, you can lean on one armrest and stretch your legs flat on the other side.  If you feel like a nap, then release the other armrest and you have a flat bed to sleep on.  The armrests are very easy to click into place and release when needed.  The mattress is quite comfortable and when fully expanded, will reach a thickness of 5″ to 6″.
Although this lounger is not your classic style sofa bed, it is great looking option.  As a lounger, couch, guest bed it is top class and its compact size is ideal for small spaces.
Dimensions:
Mattress – 

79″ L x 32″ W x 5-6″ H 

Seat – 66″ L x 33″ W x 31″ H

Lounger –  72″ L x 33″ W x 31″ H

Weight Capacity:  300 – 350 lbs when weight is evenly distributed.
Best Futon Sleeper Bed For Small Spaces
Modern Convertible Sleeper Couch By DHP
A modern, simple yet elegant designed futon by DHP is another nice option as a sleeper bed for small spaces.  This futon won't have the same feel as a comfy sofa, however if you like a more contemporary look to your furniture, then this classy little number is ideal.
Assembly:
It is very easy to assemble.  All that is necessary is to screw the four legs on.  Also, a small Phillips screwdriver comes with futon.  It is shipped in one box and weights 72.5 lbs.
Appearance:
The futon has a sleek and stylish appearance with a tufted design.  The upholstery comes in a choice of several colors and holds its shape well after use.  We really like the look of the chrome legs and also how the front legs are shaped at an angle.  For the price, it is a bargain and we can see why it is so popular (has a few thousand reviews on Amazon).
Usefulness:
Comfort wise, this is a futon and futons are not generally known for being as comfortable as a sofa.  That being said, it is like a firm chair and is definitely not uncomfortable.  As a daybed it is fine, however as a night bed it might be a little too hard for a comfortable night's sleep.  If you were to add an air mattress or a mattress topper to it, then it probably would be a great overnight bed.  It is compact in size and therefore a great choice for smaller rooms.  This futon, although not as comfortable as a sofa bed, would be great for a small office or for a small living room.
Overall, this is an amazing looking futon and a bargain price.  It definitely looks more expensive than it costs.  It won't replace a bed or a sofa, however for naps it is fine.  As a contemporary, elegant piece of furniture it will look great in any room and its compact size and multi-functional use, makes it ideal for small spaces.
Dimensions: 
Futon Dimensions: 71″L x 34″W x 32″H
Sleeping Dimensions: : 71″L x 43″W x 16"H
Weight Capacity: 600 lbs
What To Look For When Buying A Sofa Bed
When searching for a suitable sofa bed for your home, the three main things to consider are size, budget and suitability.  When it comes to size you must make sure you have enough space to fit the couch.  There are two seaters or three seater sofa beds to choose from in this article.  The two seater sofa bed is more suitable for a smaller room, however,  if you have a medium sized room, then the three seater may be a better option.
The next area to consider is budget and price.  When it comes to buying furniture, you usually get what you pay for.  When reviewing these sofa beds, we chose furniture that are highly rated and that have many positive reviews.  The more affordable sofa beds in this article will definitely be a good buy, however expect that the materials involved in its construction are of lower quality to the more expensive options.
Finally, decide what you will be using the sofa bed for.  If you are planning to use the sofa bed as a proper night time bed, then make sure you get a sofa bed and not the lounger or futons.  A sofa bed will have a real mattress and will be more comfortable to sleep on for long periods.  However, if you plan to use the sofa bed for napping during the day or for stay-over night guests, then the cheaper lounger or futon will be just fine.
When living in a small place, many people go without a sofa because it takes up too much room, however with the availability of very good quality sofa beds, it is now a great option for most people.  Having a sofa and bed all in one gives you the choice of having a sofa during the day and bed at night.  As you can see in this article the 'best sofa beds for small spaces 2019', there are a variety of sofa beds to choose from and at a variety of prices.  I hope you found the right sofa bed for you and your small home.