Treadmills are probably the most popular indoor exercise machine for cardio workouts. The versatility of a treadmill allows a user to power walk, leisurely jog, run on an incline or even sprint at high speed. And these activities can all be done without leaving your front door.
One of the main problems with treadmills are that they are quite large and bulky and therefore only suitable for homes with a lot of vacant space. Well, thankfully this is not the case anymore.
Treadmills no longer have to be large and cumbersome because there are many modern treadmills available in a compact, sleek design that can also be folded up when not in use. These smaller size folding treadmills are perfect for smaller homes.
In this article, Best Folding Treadmills for Small Spaces 2019, we will not only review the best compact folding treadmills available online but we will also be telling you what to look out for when choosing a folding treadmill.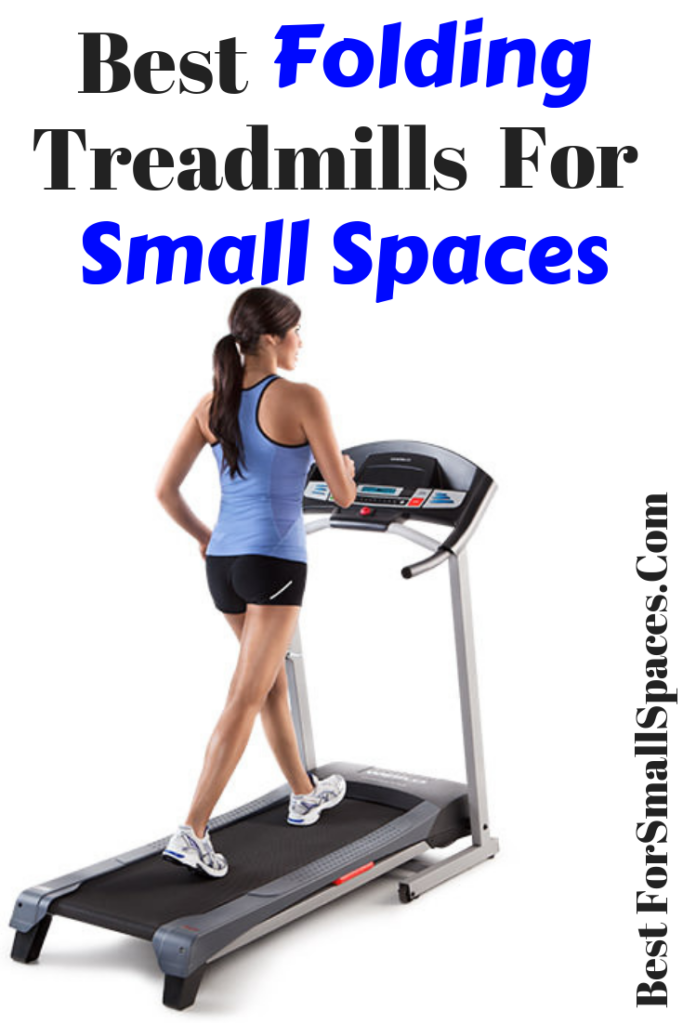 This page contains affiliate links. We hope you love the products we recommend but just so you know, if you purchase a product from one of our links below, we may receive a small commission. Details here.
---
Last update on 2020-02-18 / Affiliate links / Images from Amazon Product Advertising API
---
No.1 Best Selling Compact Foldable Treadmill For Small Spaces
Space Saving Compact Treadmill by Weslo Cadence
This compact treadmill by Weslo Cadence is a real space saver and great value for money. For the average user, this treadmill is the perfect choice to provide a great workout and a small footprint.
Assembly:
The treadmill is very easy to assemble, with very straight forward instructions. It will take one person no more than 30 minutes to assemble. The hardest part will be removing the parts from the box. The package weighs 119 lbs.
Space:
The treadmill has a complete width of 29", however the usable running width is 16". This width is narrow and ideal for slotting into a limited space. The usable width may seem quite narrow to run on, but don't worry, it is plenty wide enough to use. Overall measurements are (L x W x H): 64.5" x 29" x 55.5".
Noise level:
The noise level is excellent. It has a low steady noise to let you know the motor is on, however you won't have to turn up the TV or worry about disturbing neighbours.
Folding:
It is a foldable treadmill, however like most folding treadmills, it won't fold flat. When folded up and locked, the running deck points up at an angle. You won't be able to slide it under your bed, however it won't be an eyesore either. By being able to fold it up, you will definitely save some space in your small room.
Programs:
It has 6 personal trainer workout programs to choose from and a heart rate monitor to check your pulse. It also has a display unit that tracks your speed, time, distance and calories burned so you can monitor your progress throughout your workout.
Usability:
The treadmill has a weight capacity of 275 lbs and a layer of cushioning on the treadmill deck to reduce stress on the joints. If you want to make your training that little bit harder, there is a two position incline. It a solid and steady treadmill that may not have all the frills of a more expensive unit, but for bang for your buck, this one is a steal.
Overall, this treadmill by Weslo Cadence is a fantastic buy and it is easy to see why it is a bestseller on Amazon. It is great value and a real space saver for small apartments and homes. It is quiet, sturdy and convenient to store. If you are looking for a low to medium budget, high quality treadmill to fit into your small home, then this is our No.1 recommendation.
Space Saving Compact Treadmill by Weslo Cadence
Top Small Motorized Fold Up Treadmill For Small Rooms
Electric Folding Treadmill by Goldplus
This Electric Folding Treadmill by Goldplus, with its space saving size and ability to fold up to half its size, is an ideal choice for small spaces. With 12 exercise programs and 3 inclines to choose from, it is a high quality, very good value buy for a home treadmill.
Assembly:
Assembly is a breeze. The treadmill comes as good as 'fully assembled'. All that is needed is to put in a few screws, tighten the parts already assembled and then it is ready to use. The treadmill weighs less than 100 lbs, which is pretty light for a solid one like this.
Space:
The assembled treadmill measures 62" L x 26.5" W x 49.5" H, which is a nice compact size for small spaces. The running belt measures 47" L x 15.5" W, which is narrow but wide enough for comfortable movement.
Noise level:
A very quiet motor gives a noiseless workout and a cushioned design decreases vibration to the floor, reducing any pounding noises.
Folding:
When folded, the treadmill measures 32.5" L x 26.5" W x 57" H, almost half the length than when fully unfolded. Another nice feature is the permanent wheels underneath. These wheels make it easy to transport the treadmill from room to room.
Programs:
12 easy to use exercise programs to choose from. A 5" Blue-Ray LCD display allows you to monitor heart rate, speed, distance, time and calories. The 2.25 horsepower motor allows the user to exercise at speeds from 0.5 to 7.5 miles per hour.
Usability:
The treadmill has a weight capacity of 220 lbs. It also has a 3 level incline to increase the difficulty of your workouts. For added safety, it has a easy to reach red stop button for stopping the workout during an emergency.
Overall, this treadmill is an excellent quality, small treadmill. It is a real space saver with its compact design and ability to fold up to half its length. With 12 different levels to choose from, there are more than enough programs to challenge the most enthusiastic person. It is solid and quiet and a good bargain for the features it offers.
Electric Folding Treadmill by Goldplus
Best Folding Treadmill For Home Use
Narrow Home Treadmill By Sunny Health & Fitness
This treadmill by Sunny Health & Fitness, is another bargain buy with all the features you need for a good workout. It is narrow and compact and folds up very smoothly for good storage. This space saver is an ideal choice for those living in small apartments.
Assembly:
Assembly is very easy and an instructions pamphlet is provided. All that is needed is to lift up the upright part and then screw in ten bolts. Adding light grease (which is provided) underneath the belt is also necessary before the first use.
Space:
The overall dimensions of the treadmill are 62″ L x 27″ W x 50″ H. Pretty similar in size to our other reviews. It is a nice compact size and quite narrow. It is a good size for home use, not bulky and is large enough to exercise comfortably on.
Noise level:
The motor is very quiet, so there shouldn't be an issue with noise.
Folding:
Folded measurements are 34.5″ L x 27″ W x 58″ H. It folds up to a nice size for storage and also has wheels underneath for easy transportation from room to room. We really like the soft drop mechanism, that allows easy, safe and smooth unfolding.
Programs:
It has 9 different exercise programs to choose from and a speed range from 0.5- 9.0 miles per hour. The LCD display measures time, distance, calories and pulse. A feature we really like is the ability to start, stop or adjust speed on the handrail controls. These safety controls are a lot easier to reach on the handrails, compared to the usual front LCD display buttons. There are also 3 incline options for those that want added intensity to their workout.
Usability:
The treadmill has a weight capacity of 220 lbs and a running surface of 48.82″ L x 15.75″ W. This width will be narrower than a gym treadmill, however it is more than wide enough to run on comfortably. The shock absorption system is good for protecting joints while jogging and is ideal for those that have joint issues. The shock absorption is also great for reducing impact noise.
Overall, this is another great quality, good value treadmill that provides the average user all they would need for a good workout, at a fraction of the cost of the top dollar treadmills. It is a real space saver, that folds up relatively small and is also mobile.
Narrow Home Treadmill By Sunny Health & Fitness
Smallest Folding Treadmill For Home Gyms
Portable Indoor Folding Running Machine By Shayin
This compact treadmill by Shayin, is the smallest treadmill we are reviewing today. It is a little more expensive than the previous three, however it is a high quality exercise machine and an ideal space saver for small homes.
Assembly:
The treadmill is pretty much fully assembled on arrival. Just unpack and attach a few screws and then it is ready to use.
Space:
Measuring 61.4" L x 28" W x 47.6" H fully expanded, this treadmill is the smallest one we are reviewing here. With its compact design, this home use treadmill is a real space saver and perfect for small homes.
Noise level:
Its 2.0 horsepower motor is nice and quiet and with its 8 shock absorbing springs, they help reduce the sound of jogging impact noise and vibration to the floor. Overall, a quiet machine.
Folding:
The folded measurements are 61.0" H x 28"W x 10.7" L , which is pretty neat. We really like the soft drop system that uses pneumatic shocks, which aid you in raising and lowering the running deck. It is very smooth and safe, and you never have to worry about it falling down when lowering it. It also has rolling wheels for easy transport from room to room.
Programs:
Just like most treadmills, it has an LCD display console to help you keep track of pulse, speed, calories, time and distance. However it also has MP3 connectivity and Hi-Fi stereo system, so you can listen to music while you exercise.
It has a good selection of 12 different exercise programs to keep you challenged and motivated. If you want to increase the intensity of your workout, you can also select one of three different incline levels. Its speed levels range from 0.5 – 9.2 miles per hour.
Usability:
It may be the smallest treadmill we are reviewing, however with a running belt surface of 48.4" L x 16.9" W, it still provides more than enough surface to exercise comfortably on. The high level shock absorption it provides, provides a solid but comfortable running surface and is also great for protecting joints from injury. It has a maximum weight capacity of 243 lbs.
Overall, this treadmill is a really quality piece of exercise equipment and would probably get our No.1 vote, however it is that little bit more expensive than the others. It looks fantastic, is really compact and has some great features to help make your workout experience challenging and really comfortable. If your budget is in the mid range, then this treadmill is a great quality space saver.
Best Compact TreadClimber Exercise Machine For Small Spaces
Fat Burning Small Treadclimber By BowFlex
This treadlimber by Bowflex is not your traditional style treadmill, but a treadmill, climber and elliptical machine, all-in-one. It doesn't fold up, however it is relatively small in size. As a low impact (easy on the joints), optimum fat burning, home use exercise machine, this treadclimber is top notch.
Assembly:
With this treadmill, you have a choice to assemble yourself or order an 'in-home assembly' for extra charge (not cheap). Assembly instructions are clear and easy to understand. We recommend two people to assemble and it should take up to an hour to complete. The package will arrive in two heavy boxes. An Allen Wrench is also provided for the attachment of the screws. The machine weight is 158 lbs.
Space:
The overall dimensions of this treadmill are 57″ L x 31.5″ W x 59″ H, which compares very similar in size to the compact treadmills above. As this treadmill is a bit different, you might have to take into consideration low ceiling heights. The treadles are 14.5" in height, therefore add your own height onto this. This combined height and a couple of inches clearance will give you the ceiling clearance height.
Noise level:
If you have used a climbing machine before, you will know that they don't really have much of a noise. This treadclimber also doesn't provide high impact cardio exercise, therefore there is no pounding of feet involved.
Folding:
This treadclimber does not fold up, however it is a compact exerciser that only has an overall length of 57".
Programs:
The treadclimber has five different exercise programs to choose from and can track the progress of four different users. It also boasts the ability to burn 2.5 times the calories as a regular treadmill, at the same speed. It has a speed range of 0.5 – 4.0 miles per hour and also has a hand grip heart rate monitor.
Usability:
The treadclimber uses the motions of a treadmill, climber and elliptical machine all-in-one. It is a very low impact machine but can also give a very challenging workout. It is suitable for beginners to advanced and very easy to use. Just get on and walk. Weight capacity is 300 lbs.
This treadclimber, although not a traditional style treadmill, was added to the reviews to give a different example of a treadmill machine. It is expensive, however it is a high quality, heavy duty machine, that is a fantastic fat burner. It may not have the ability to fold up, however its footprint is not that large, measuring 57" in length.
What To Consider When Buying A Treadmill For Small Spaces
Budget –
Treadmills can start from as low as $100 for a manual running machine, however you get what you pay for. It will be very basic and definitely no frills. The majority of the reviews above are in the low to medium price bracket from $200 to $500. You can get a decent quality treadmill for this budget, that will be perfectly adequate for the average home user. There are expensive treadmills over $1000 that are top of the range machines. If you are on a budget, then why not consider a
mini trampoline
and jump your way to a healthier you.
Space And Noise Levels –
Measure the area that you are going to place the treadmill. Will it fit comfortably in that area? Folding treadmills can make storage a lot easier, however they still take up about 3 feet in length when folded. A quiet motor and shock absorbing running surface will allow a more pleasant workout for you and your neighbours. If you are looking for a quiet workout, then why not also check out these
compact exercise bikes
.
Horsepower –
The majority of modern treadmills will have a horsepower of over 2.0, these days. This will be enough for the average build person to have a regular fast walking workout. However, the heavier you are, the more horsepower will be needed to accommodate the extra load. Also, if you are a runner, you will also need some extra horsepower.
Features –
Depending on what you want the treadmill for, programs can be a big help to keep you going. Walking and running on a treadmill can be quite boring, therefore a choice of several different programs to challenge you, will be essential. Also, a feature to monitor your progress can be a handy tool to keep you motivated and on track. Added features like plug in MP3 player connectivity or a video player are nice bonuses to keep you entertained while exercising.
Some Maintenance Tips For Home Treadmill Use
A home treadmill price can range anywhere from $100 to over $2000, so depending on which one you buy, they certainly can be an expensive piece of exercise equipment. Just like any other machine, a home treadmill needs to be looked after to maintain its quality and longevity. Here are a few tips to make sure your treadmill continues to run smoothly and for many years.
First of all, as the treadmills in this article are all folding, it is probably safe to say that you will be storing your treadmill away between usage. It is important that when you choose the area to set up your treadmill, that it is a clean and flat area. It is a good idea to always use the same area for your treadmill workout and to make sure it doesn't become dusty. Vacuum or sweep the dust underneath the treadmill to prevent it from entering the conveyor belt.
If you sweat a lot during your workout, then you will probably get some sweat on the machine. It is important to remove the sweat from all areas of the treadmill. Sweat can stain plastic regions and rust the metal areas. If sweat gets into the LCD screen, then it could damage it, so make sure you wipe the sweat off of that also. A dry cloth to wipe down the machine after ever workout should be enough, while a damp cloth once a week should keep it clean.
Use a vacuum cleaner or damp cloth on the conveyor belt on a weekly basis to remove dust and dirt particles and to keep it running smoothly. Only use warm water on the cloth to clean areas of the machine because cleaning products may damage it.
On a monthly basis, unplug the machine, remove the motor hood from the treadmill and use a dry cloth or mini vacuum cleaner to clean off any dust particles that have accumulated inside.
Through usage, the screws of the conveyor belt may loosen, so follow instructions on the maintenance guide provided with the machine, to tighten the screws. The same goes for lubricating the machine. As all machines are different, follow the manufacturer's instructions on where and how often you should add oil to the treadmill belt and motor parts.
Each of the folding treadmills in the reviews above are high quality machines that have been highly rated by customers. If you purchase one of these treadmills and follow these maintenance tips and guidance in the maintenance book provided by the manufacturer, the machine should run smoothly and for many years to come.
.
A treadmill can be a wonderful exercise tool to allow you to do cardio workouts in the comfort of your own home. Unfortunately, many of them are very large and impossible to comfortably fit into smaller homes. A folding treadmill can help solve this issue, along with a more compact size. If you would like to have a look at other types of compact exercise equipment, then why not check out these reviews on
compact rowing machines
or
compact elliptical machines
.
We hope you found the 'Best Folding Treadmills For Small Spaces 2019' helpful and we hope you were able to find the ideal treadmill for your small space.