Living in a small space is already a challenge. And it can even get more challenging when you start cooking. The smoke and nasty odors can immediately get into every corner of your apartment and can really be annoying, especially if you have kids with asthma.
Do you have the same problem? Are you on a quest to keep your small home fresh and get rid of those lingering odors? Well, I've got some good news for you!
Below, I will be listing down five of the best small air purifiers you will find on the market. What makes these tiny air purifiers incredible is that you don't have to sacrifice quality for size. They can eliminate germs and keep the air in your home as healthy as possible without taking up too much floor space.
This page contains affiliate links. We hope you love the products we recommend but just so you know, if you purchase a product from one of our links below, we may receive a small commission. Details here.
So are you excited to know what these products are? Then please keep on reading below!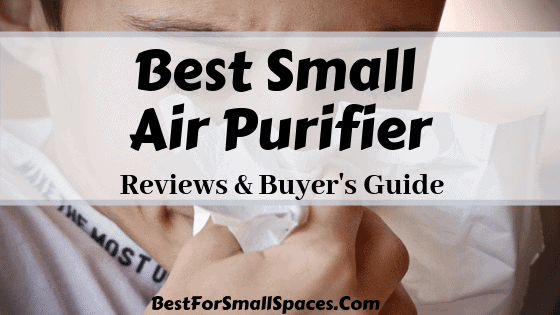 Best Small Air Purifier Reviews & Buyer's Guide
✅ No. 1 Recommended Small Air Purifier
Coway AP-1512HH Mighty Air Purifier
If you want an incredibly effective and efficient air purifier, you might want to consider the Coway AP-1512HH Mighty Air Purifier. It uses a four-stage filtration system, which is more than the standard two for an air purifier. There's a washable pre-filter that can trap large particles such as dust and hair, this means you no longer have to replace the filter as often. Next, there's a carbon filter that does an excellent job of getting rid of various odors.
The True HEPA filters, on the other hand, capture even the tiniest particles that range from very thin smoke particulates to larger pollen particles. Lastly, there is an optional ionizer that will reduce particles in the air even further. There's a separate switch to turn the ionizer on and off.
This tiny air purifier has also been designed to handle pretty large spaces. In fact, it can clean rooms up to 361 square feet (49 square meters).
Other interesting features:
It comes with an eco-friendly mode where it automatically shut off the air purifier once pollution is no longer detected.
It has a different indicator. For instance, the air quality indicator uses particle sensor technology which is sensitive enough to determine the indoor air quality. You will see a noticeable change of color whenever there will be fluctuation in the air quality. There is also a filter change indicator to tell you it's about time to replace the air filter.
It has four different fan speeds to choose from. You will be able to change the speed according to your needs.
It operates very quietly and smoothly.
It features an auto-dim LED that senses ambient light levels of your room so the LED will dim by itself.
The four-stage filtration system of Coway AP-1512HH Mighty Air Purifier is definitely doing a serious job to make sure it get rid of up to 99.9% of contaminants from the air as well as several odors. On top of all this amazing feature, Coway AP-1512HH Mighty Air Purifier looks so pretty.
Coway AP-1512HH Mighty Air Purifier
Best Small Air Purifier for Mold and Viruses
SilverOnyx True HEPA Air Purifier
The SilverOnyx Air Purifier boasts a five-stage filtration system. It begins with a mesh pre-filter that captures the larger debris. Then followed by the true HEPA H13 filter that traps smaller particles. It captures up to 99.37% of allergens and dust, even those that are 0.3 microns in size, making it the perfect filter for mold spores.
Next is the activated carbon filter that neutralizes all odors in the room. It can counter all kinds of bad smells like cigarette smoke, kitchen smoke or pet odor. So when you're frying a fish that leaves a nasty scent, you can just turn the air purifier on and you'll be able to get rid of the bad smell in seconds. What is more, there's a UV-C light that can destroy bacteria, germs, molds as well as viruses that cause colds and flu.
To finish off the five stages, there is an ion generator that discharges negative ions into the air to interact with floating particles and make them cluster together into a larger group. In this way, it will now be much easier for the air purifier to clean the air as it can stop bigger clumps faster.
Other interesting features:
It has a low noise level.
You can set the timer so the air purifier will automatically work on its own.
While most air purifiers have three speeds, this little device comes with five speeds. This means it is powerful enough to clean the air in rooms as large as 600 square feet.
It features a Smart Sensor that automatically adjusts the airflow to make sure you have the highest quality of air.
It comes with an indicator that will tell you when it is time to replace the filters.
If you want to use this air purifier at night, you can just press the 'sleep' function that reduces the blue light a bit.
SilverOnyx True HEPA Air Purifier definitely has a powerful air filtration process and amazing performance, especially when it comes to killing mold spores. And thanks to its small size, you can put it almost anywhere.
SilverOnyx True HEPA Air Purifier
Best Affordable Small Air Purifier
Hamilton Beach 04383A Air Purifier
The Hamilton Beach 04383A is one of the best-selling air purifiers. It's popularity is not surprising as it is really inexpensive and can purify a room of up to 160 square feet. But despite its cheap price, it does an amazing job of getting rid of airborne irritations.
This device features a triple filter system to filter your air even on a microscopic level. It uses a HEPA filter that can trap up to 99% of smoke, pet dander, allergens, dust, and dirt. It also comes with a three-speed mode to make sure there will be faster air filtration.
Other interesting features:
It uses a permanent filter. This means you no longer have to buy expensive filters all through this machine's lifetime. You just have to be diligent when it comes to vacuuming the filter. Clean it more often, at least three times per year, to extend its lifespan.
It works very quietly. You can barely hear it when you're using it on the low setting. You can just put it on all night and you will not have any trouble sleeping.
Moreover, the Hamilton Beach 04383A has a sleek and compact design. It's a very small air purifier that you might even mistake as a speaker. You can place it almost anywhere, on a table or a shelf; don't worry, this machine only weighs 5.7 lbs, so it won't break your shelf.
To make it even more convenient, you get to choose whether to place it horizontally or vertically so it will really fit into a tight space.
Hamilton Beach 04383A Air Purifier
Best Small Air Purifier For Bedrooms or Offices
AeraMax 100 Air Purifier
The AeraMax 100 Air Purifier by Fellowes is composed of a four-stage filtration system that effectively gets rid of toxins and keeps the air purified. Just like the other air purifier mentioned above, it has a carbon filter and true HEPA filter.
But what makes it unique is its AeraSafe Filter and Plasma TRUE technology. The AeraSafe Filter is an antimicrobial agent patented by Fellowes to prevent the growth of any fungi, micro-bacteria and other organisms trapped on the HEPA filter. It destroys odor-causing germs, molds, mildews and several others as soon as they get in contact with the filter's surface. The Plasma TRUE technology, on the other hand, uses an ionized field to eliminate airborne contaminated particles.
But what's even more impressive is its Aera+ mode feature which prevents any allergens, airborne diseases and contaminants from spreading. This is an additional feature that you will not find in any other regular air purifiers.
Other interesting features:
This air filter comes with a touch screen display rather than the usual buttons, making it much easier to use. From here, you can manually change the fan speed or see if it's time to change the filter.
This product is known for its silent operation, so it will not bother while you are working or sleeping.
It features an amazing AeraSmart sensor which will automatically adjust the speed of the fan to make sure the air quality is well-maintained, purified and fresh.
I can totally say that the AeraMax 100 Air Purifier comes with incredible features especially for those who are suffering from respiratory problems and allergies.  In fact, it is one of the few air purifiers that have received certification as allergy and asthma friendly by the AAFA.
Also, I'm pretty sure you will love the sleek, contemporary and slim design of this machine, that will go along just fine with almost every interior style.
AeraMax 100 Air Purifier
Best Small Air Purifier For Allergies
Winix 5500-2 Air Purifier
The Winix 5500-2 Air Purifier was designed for any home environment to capture, mold spores, dust, pet dander, pollen, and household odors. It features a three-stage air cleaning system composed of True HEPA Filter, activated carbon filter and PlasmaWave technology.
The activated carbon filter in this unit is washable and has a long lifespan. What is more, the PlasmaWave technology, breaks down allergens, odors, chemical vapors along with various indoor pollutants without producing any harmful ozone; this means it won't irritate asthma or any other respiratory issues. The pollutants destroyed by PlasmaWave will transform into a water vapor or harmless air molecules.
Other interesting features:
It has four speeds that allow you to control how fast the air circulates over the filtration system.
It features smart sensors that automatically adjust the speed of the fan according to the quality level of the air.
It comes with a sleep mode so it will operate at a low volume. There's also a LED auto dim feature to make sure the unit's lighting will not disturb your sleep.
So if you are suffering from asthma, allergies or hay fever, then Winix 5500-2 Air Purifier is definitely your best bet. This reliable and powerful machine could improve the quality of your home and pretty soon any allergies or other conditions you may suffer from should start to improve. Try using it and after a few days, you may notice that the need for dusting all surfaces should significantly reduce.
And if you want to run this air purifier for longer periods of time, I'm happy to tell you that this unit is Energy Star certified.
Winix 5500-2 Air Purifier
How to Choose the Best Small Air Purifier
The first thing you need to consider when buying an air purifier is the size of your room. Your small air purifier should be able to provide ample coverage of your room. Air purifiers come with a recommended room square footage and it is highly recommended to choose one with square footage that is equal or a bit higher than the room you would like to place it in.
The next thing you need to consider is the type of air filter used as it plays a vital role in the type of pollutant the machine will be able to eliminate. There are actually five main types of purifying technology:
Pre-Filters. A pre-filter is very important as it traps big particles like pet dander, hair, and dust.
HEPA Filters. High-Efficiency Particulate Air (HEPA) filters are the most important filter in an air purifier as it can remove up to 99.97% of 0.3-micrometer particles. This will allow the air purifier to eliminate even the tiniest dust and pollen as well as pet dander, mold spores and several other allergens from the air.
Activated Carbon Filter. If you want to get rid of nasty odors like those that are coming from cooking in the kitchen, from cigarette smoke or your pets, then you need to make sure your air purifier comes with an activated carbon filter. This filter will let the air get through an activated charcoal screen and charcoal has natural absorbent properties that efficiently reduce bad odors.
Ionic Filters. These emit negative ions that can bind viruses, bacteria, and other tiny particles together so it will be easy for the air filter to clean the air.
UV Filters. These filters emit short-waves of UV lights to kill airborne microorganisms like viruses, allergens and bacteria that gets trapped on the HEPA media surface. It can actually kill up to 99.9% of germs that can cause flu or colds.
Also, you will need to make sure that your choice of air purifier will be easy to maintain. There are plenty of machines that are very easy to maintain, clean and operate, while some will require a significant amount of your time and effort. Those with reusable and washable pre-filter are highly recommended as they can help cut down the overall cost.
You might also want to check the availability as well as the cost of its replacement parts. You don't want something that is easy to maintain but will require expensive parts when it breaks down, leaving you with a very expensive device to fix.
Other important features you need to consider are:
The number of speeds and noise level. The number of speeds will allow you to adjust the air purifier to your needs. You can put it into a higher speed when it is prime pollen time or lower it when you are about to sleep or work and need a quieter environment.
Automatic air quality monitor. It's also good to opt for an air purifier that comes with an automatic air quality monitor which uses special sensors to monitor the air and adjust the cleaning speed automatically according to your needs.
Servicing indicator. Air purifiers that feature servicing indicators are also the best. They will let you know when the unit needs cleaning or when it is time to replace the filter. Of course, a clogged air purifier will only be working inefficiently and that's something we don't want.
Why not check out our reviews on the Best Mini Air Conditioners, also.
Final Thought
So there you have it, the best small air purifier available in the market today. These products can help clean and maintain your indoor air. They may be small, but are still powerful enough to freshen your home, desk or even your car.
You will now have an environment that is safe from allergens, dust, toxins and polluted air. This will bring a lot of health benefits to you and your family, making the air in your home cleaner and breathable.