A chair during the day and a bed during the night, what better way to make use of limited space in small homes than a multi-purpose piece of furniture, like a chair bed.  A studio apartment can be too cramped to have both a bed and a sofa, so why not have the best of both worlds, all in the one space.  Whether it is a single, double or triple seat chair, you can get one that converts into a twin or double sized bed.  Trundle beds are an option if you need an extra bed, by pulling out a ready to sleep on bed on wheels, from under a sofa.  A folding bed is a great way of having an extra bed, that you can fold up and store away when not in use.  However, in this post, we won't be reviewing a trundle bed nor a fold up bed.
In this article, top 5 chair beds for small spaces, we will be looking at multi-purpose chair beds.  We will be reviewing the most popular sofa bed, top selling futon, a cute and comfortable day bed, a mattress chair and a surprisingly super space efficient bean bag and mattress combination.  With these reviews, you have a great choice of chair beds to choose from and we are confident you will find one you will love.
This page contains affiliate links. We hope you love the products we recommend but just so you know, if you purchase a product from one of our links below, we may receive a small commission. Details here.
No.1 Choice Sofa Bed For Small Spaces
DHP Premium Sofa Bed
This best selling twin sized sofa bed by DHP is an excellent value, awesome looking little sofa, that will convert into a twin size bed.  This sofa bed is ideal for a studio apartment, that is too small for both a bed and sofa.  It is also perfect as a guest bed for visitors staying over night.  What's more, because it is only a double seater, it doesn't take up too much space.  The sofa measures  45.5″L x 31″W x 35.5″H, great for small spaces, and its faux leather upholstery looks fantastic and is easy to wipe clean.
This is a pullout sofa bed which includes a mattress.  Many sofa beds for this price do not include a mattress, therefore it is great value for the money.  The mattress has a coil interior and is a twin size.  Coil mattresses are of average comfort, however a memory foam topper on this sofa bed would make it an awesome sleeper.
It is simple enough to assemble, just connecting the arms and legs to the frame and should take you less than an hour.
It has a weight capacity of 400 lbs, making this little sofa bed a strong and sturdy piece of furniture.  We really like the look of this sofa bed and believe it is a great space saving piece of furniture for small studio apartments, small offices, dorms and for guest rooms.  If you would like to see more of our sofa bed reviews, then click on the link.
Description and measurements
Twin size mattress sofa bed with faux leather upholstery
Ideal for small spaces
Sofa during the day, bed during the night
Color: Black, Gray
Sofa Measures: 45.5″L x 31″W x 35.5″H
Sofa bed when open:  45.5″W x 85.5″ D x 35.5″H
Mattress measures: 72″L x 37.5″W x 3″H
Coil mattress included
Weight capacity: 400 lbs
Strong and sturdy wood frame
Easy to assemble and keep clean
Great for stay over guests or as a space saving multi-purpose piece of furniture
No.1 Choice Futon Chair Bed For Small Spaces
DHP Emily Futon Sofa Bed
In this review, we will be looking at a very popular futon bed by DHP, which is another best seller on Amazon.  With over 3,000 reviews and high ratings, we can be confident that this is a good quality futon.
First of all, futons are not the same as sofa beds or day beds, in general, when it comes to comfort.  A day bed and a sofa bed will have real mattress comfort, where as a futon has a more solid feel to them.  If you are planning to use a futon as a regular sleeping bed, then a mattress topper might be needed to give it more cushion.  However, as a space saving chair and bed combination, a futon is an inexpensive, versatile and attractive piece of furniture that can be a a great addition to small homes.
This specific futon looks fantastic and also looks a lot more expensive that its bargain price.  If we were to find some faults with it, we would prefer some thicker upholstery and stronger legs.  The upholstery may be a little thin, therefore it may not be suitable for young children or pets jumping on it.  Also, the legs could be made of thicker metal tubing, however a 600 lbs weight capacity is pretty good.
This is a really nice futon and we can understand why it is so popular and great for small spaces.  If you look after it and don't mind a firm bed or chair, then this futon by DHP is excellent value and has a really nice designer appearance.
Description and measurements
Futon with modern look with squared tufted design and slanted chrome legs
Color: Black, Vanilla, Navy, Gray
Measures: Length fully flat 70″, Seat height 15″, Chair back height is 32″, Width is 30″
Upholstery material: Black, Navy, Vanilla – Faux Leather.  Gray – Fabric.
Weight capacity: 600 lbs
Firm
Great for space saving
Ideal chair bed for stay over guests
DHP Emily Futon Couch Bed, Modern Sofa Design
Best Lounger For Small Apartments
Kodiak Futon Sofa Couch and Daybed
What's the difference between a futon and a daybed?  A daybed is a lot more comfortable.  A daybed has a real mattress, therefore will provide that sleeping on a real bed feeling.  This daybed by Kodiak is a super comfortable, nice looking sofa chair bed, that will be a perfect guest bed.
As a lounger this couch is great to spend a few hours on and if you want to sleep on it, you just pull back the arms fully and release to a flat position.  The frame is not heavy, however it is still solid and sturdy and can hold around 300-350 lbs evenly distributed.  The lounger measures 32″ wide and 76″ long, making it narrower than twin size bed, however also longer than one.
The lounger is very easy to assemble and really looks great when finished.  The fabric upholstery is a micro-suede which is soft and comfortable.  We especially like the thickness of the covers, compared to other futon covers that are usually quite thin.
This lounger comes in a variety of colors and designs, that will easily match any decor.  It is a good quality piece of furniture and great for small spaces because of its size and multi-purpose.  If you want a comfy lounger for a small room, then this chair bed by Kodiak is a great choice.
Description and measurements
Lounger chair bed that looks great and is very comfortable
Colors: 26 different colors and designs to choose from
Measures:  72″ L x 33″ W x 41″ H
Mattress measures: 76″ L x 32″ W x 6″
Micro-suede covers
Two pillows included
Sturdy metal frame in black finish
Weight capacity: 300-350 lbs
Multiple position arm settings
Chair, lounger and bed – all in one
Ideal for space saving and for small spaces
One year limited warranty
Best Folding Mattress Chair Bed For Small Rooms
Gray Sleeper Chair Folding Foam Bed
This mini foam couch is a great dual purpose chair bed that would be suitable as a bed for a small adult or child.  There are many positive things to say about this chair bed and we really feel that it would be a perfect chair for a child's room or a dorm room.
First of all it is stuffed nice and thick with foam, that gives a very comfortable chair to sit on and bed to sleep on.  The chair measures  23″ High at the back-rest x 12″ high at the sitting position x 32″ wide x 30″ deep.  The seat area is high enough for comfortably getting up and down from the seat, however the back rest may be a little short for an adult sitting back on it for long periods of time.
The chair is kept in position by two very strong velcro straps and when a bed is needed, it is very easy to unfold.
The materials are of good quality and it appears to be built to last.  It also is a surprisingly good looking chair for a fold up foam style mattress.
When the chair is folded out, it is pretty wide, however, it is not very long.  It is not as long as a twin size bed, for example, however it is just as wide.  We recommend a height maximum of 5 feet 7 inches for this bed, otherwise expect your feet to hang over the edge.  It is a solid, firm but comfortable mattress, that shouldn't sag, therefore ideal for a comfy night's sleep.
This versatile chair bed would be a perfect fit for many homes where space is limited and would be a wonderful guest bed for a child's friend sleeping over.  For adults, it is a comfortable chair and bed, however not for tall adults.  Ideal for kid's rooms, entertainment rooms, dorm rooms or as a guest bed, this convenient foam chair bed will surely not disappoint.
Description and measurements
Space saving foam chair bed that quickly converts to a comfortable mattress
100% polyester
Filled with foam
Color: Gray
Chair measures: 23″ High at the back-rest x 12″ high at the sitting position x 32″ wide x 30″ deep
Mattress measures: 6″ Thick x 32″ Wide x 70″ Long
Firm but comfortable
High quality material, durable and shouldn't sag
Great for small spaces
Made in USA
Gray Sleeper Chair Folding Foam Bed
Convenient Chair Bed Mattress For Small Apartments
CordaRoy's Chenille Bean Bag Chair
Who doesn't love a big bean bag to lounge on.  Bean bags are fun, adaptable and comfortable to sit on, especially the larger ones.  However, how about a bean bag that can easily convert into a full size mattress.  This CordaRoy Chenille Bean Bag does just that.  We really love the idea of this product and believe it would be a great option as a guest bed for a small apartment.  We also think it would be perfect for kids to sit on and an ideal makeshift bed when their friends decide to sleep over.
The cover is made of durable micro-fiber and is washable and dry-able.  It measures 42″ wide, making it a decent sized chair to sink into and spend a couple of lazy hours on.  When you want to use it for a bed, you unzip the bean bag and remove the mattress inside.  This full size bed measures 54″ x 75″ x 8″  and is covered with cotton/polyester fabric.  It is filled with premium soft shredded foam.
Some customers have complained that there was not enough shredded foam inside the mattress, however, CordaRoy states that if needed customers should request extra shredded foam and they will send it free of charge.  The foam density is a personal preference, so it is good to know that the manufacturer will take care of their customers if more foam is needed.
A bean bag may not be what many people think of when looking for a chair bed, however it is a good idea for saving space and as a dual purpose furniture.  The bean bag is a great seat to relax on, especially for kids.  What's more, this chair can be used as a bed when needed, making it an ideal space saver for small homes.
This bean bag is not cheap, however the quality is good and having the convenience of a chair and bed in one, makes it worth checking out.  If you or your child loves bean bags, then check out this dual purpose seat and bed by CordaRoy.
Description and measurements
Comfortable bean bag that converts into a full size shredded foam mattress
Material: Soft microfiber cover, cotton/polyester mattress cover, shredded foam stuffing
Bean bag width: 42″
Full size mattress measures: 54″ Width x 75″ Length x 8″ Thick
Weight: 35 lbs
Changeable, Washable & Dry-able Cover
Sturdy cotton/poly bed with safe-lock zippers
Fabrics tested and guaranteed
Space saving dual purpose chair bed
Ideal for small spaces
Perfect for kids and bean bag lovers
Vacuum packed delivery
CordaRoy's Chenille Bean Bag Chair Bed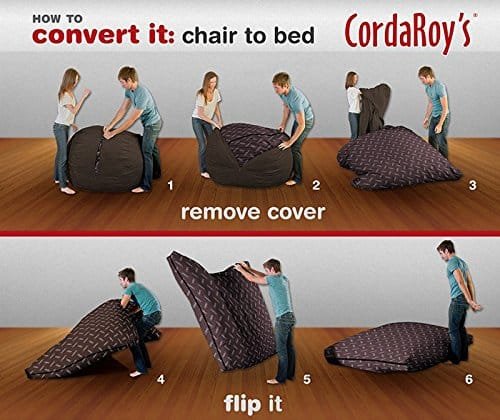 Once again, dual purpose furniture is the winner when it comes to making the most out of limited space in small homes.  Having an all in one chair and bed is a great idea for a small space, using as small a footprint as possible.  In this article, top 5 chair beds for small spaces, we reviewed five different types of chair beds.  We hope you found the style of chair bed you like and also found the ideal chair bed for your small home.