By finding your way to this article, I'll take it that you live in a small home.  That's great!  Small homes rock, for many reasons. 
Sure, sometimes you can feel like you would like a little extra space, however that is where some creativity and intelligent storage strategies come into play. 
In this article, I will show you 12 simple storage ideas for small homes that will definitely help you get the very most out of your small space.  There is no need for dreaming about having extra space, all we need to do is get the most out of the space we already have.
This page contains affiliate links. We hope you love the products we recommend but just so you know, if you purchase a product from one of our links below, we may receive a small commission. Details here.
12 Simple Storage Ideas For Small Spaces
Under the Bed
Yes, this is an obvious one and a lot of new beds are already designed to have pullout drawers underneath.  However, if you have a bed that has four legs, then make sure to use that valuable space underneath. 
Many people use this space as a place to store things that they don't use often. Most people don't want to reach under their bed to search for essentials everyday, however this is a bad way of utilizing under the bed space. 
It is possible to buy ready made drawers with handles.  These drawers are made of plastic, vinyl, fabric or wood and can be pulled out and pushed back in when needed.  Pullout drawers are a wonderful place to store everyday essentials items and are a must if you have a 4 legged bed.
Headboard Storage
Who would have thought that the humble bed would have so much more storage potential than just sleeping on.  
Headboards not only make your bed look complete, but also they can be very useful for storing essential items.  The majority of headboards are designed to lean on or to protect your head from hitting the wall. However, some headboards are specially designed with drawers and shelves. 
These specially designed headboards can be used for storing essentials, placing lamps, pictures and books on.  And as a bonus, they look great too!
Bedside Storage Caddies
And to end our bed themed storage tips, we recommend a bedside storage caddy. This is especially for those that don't have enough room for a bedside cabinet.  Bedside cabinets are handy for storing useful items that you can reach for while in bed. However, they are awkward to fit into mini-sized rooms. 
A bedside caddy can be a very useful accessory to hold your TV remote control, book, diary, pens etc.  Just hang a bedside caddy on the side of your bed within hands reach and you will never again have to get out of bed on a cold winter's morning to get that book or TV remote control.
Behind the Door Storage
Are you fully utilizing the space behind your doors? It is very easy to set up shelves on the wall behind the door.  It is even easier to set up hangers.  These hangers are great for hanging coats or other useful items, like brooms, ironing boards etc.
Double Up Sofa Beds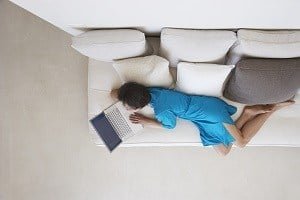 Living in a small space means using the items in that space to the best of their ability.  What better way of doing this than having multi-purpose items in your small home. 
For example, instead of having a separate bed and sofa, how about having a sofa bed.  I currently sleep on a sofa bed, and I admit they can be hit or miss. However, the days of all sofa beds being uncomfortable, are long gone. 
Modern sofas beds can not only be very useful but also luxurious and very comfortable.  If you live in a studio apartment and want to invite guests over, sometimes it can be difficult to know where to seat them. 
However, with a sofa bed you have a sofa for them to sit on, but when they are gone it transforms into your comfortable bed at night.  Sofa beds are also a great option for stay over guests.
Double up Storage Bench/Chairs
Just like the double purpose sofa bed, storage benches and chairs are very useful essentials to have in any small home.  Not only do they look the part, they can also be cushioned and quite comfortable to sit on. 
The great thing about them is that they have a hollow inside with a removable cover. This allows you to store items inside, that are easy to get access to but also kept completely out of sight.
Here is an example of an ottoman storage bench. This attractive bench is as a leg rest, seating for more than one person and also a useful storage box.
Inside the Doors
We have already talked about the unused storage space behind large doors but this time we are talking about the unused space on the inside of doors.  A hanging rack on the inside of a bedroom, kitchen or bathroom can be very useful for hanging robes, jackets, scarves etc.
How about a kitchen or bathroom storage cabinet that connects to the back of the door. Very useful and discreet.
Go vertical
Instead of having many items scattered around the floor, try to use space higher up the walls.  Adding shelves high up on the walls or above doors, will free up a lot of space on the ground.  
Also, consider some taller items, such as tall bookcases or tall closets.  If you have space above your closet/bookcase you are more than likely going to store items on top of it.  This can look awful.  Therefore, for a cleaner appearance, a taller closet or bookcase will give you the same cubic storage space but with a more tidier appearance.
Hanging on the Walls
This tip is more geared for kitchen pots and pans.  Instead of jamming several pots and pans into kitchen cabinets, how about having that rustic feel of hanging pots, pans and other kitchen utensils on the kitchen walls.  There is  usually unused space on walls in the kitchen that would look great with pots hanging from them and by no means is it unsightly.
Under/Over the Bathroom Sink
If you don't have a vanity cabinet under or over your bathroom sink then one of these cabinets can be a great addition, in your quest to improve storage efficiency.  These cabinets can be either hung on the wall above the sink or more simply slotted in below the sink. 
Vanity cabinets are great for storing personal items and towels.  There are also some storage cabinets that can be opened down to double up as a useful counter top.
Narrow Storage
We have already advised you to go tall when it comes to storage but what about going narrow.  Yes, there are some spaces that are too narrow to fit anything large in. However, for smaller things, these little nooks and crannies are a perfect place to fit in a sliding narrow cabinet. These slimline cabinets are very useful for storing small but essential items.
Use the Corners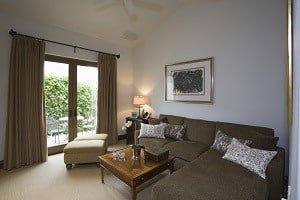 As already stated, using every possible space to the max will benefit small homes.  Having furniture that fits the corners of your rooms not only look great appearance-wise, but also makes the best use of that corner. 
Corner cabinets for storage, corner book shelves, corner computer desks, corner shelves for TVs, corner vanity tables, the list goes on.  Make the best use of that corner for a tidier, neater and more storage efficient room.
I hope you found a few tips and ideas in this article useful.  Utilizing just a few of these simple storage ideas for small homes should not only free up some valuable space, but should also give your home a more spacious and tidier appearance.