Other people may call it a small garden. But for small garden owners, the size of their garden is nothing short of perfect.
If there's enough space to sit out, plant some flowers and looks great from inside the house, then that garden is not small, it is just right. And if you design it right, you will get a lot of wows throughout the year.
You may not have a large outdoor space but that doesn't mean you can't be creative with what you have. With a little design inspiration, even the most limited back lawns, the most petite of balconies or the tiniest of patios can become an attractive place in which to spend time.
Here Are The Small Garden Ideas That Will Make Your Small Garden Look Amazing:
1. Strategize –
To make the most of the given space in a small garden, planning the design with seasons in mind is a good idea.
The secret to getting the most out of your small garden is strategically placing your pots and layered plantings.
a. Plan The Landscape In Layers
Look at the available space in your garden and then strategically plan with layers. Ground covers first, next comes perennials and annuals, thirdly, the shrubs, and then finally the climbers and small trees.
b. Double Up Plantings
This provides a larger and fuller looking garden. Combine annuals with shrubs and bulbs with perennials.
c. Showcase The Season
There should always be something blooming so that you will have a colorful garden no matter what the season.
Quick tip: Vertical surfaces like fences and walls can maximize growing space. In the absence of fences or walls, a trellis would be a great alternative.
2. Prioritize Viewpoint
At all times, prioritize the view from inside the house. This is because most of the enjoyment you will derive from your small garden will be from you admiring how great it looks from your patio door or window.
3. Utilize Potted Plants
Pots and containers can be very useful when organizing a small garden. They provide flexibility and are perfect for hard-surface areas, such as a courtyard or patio.
On a deck, make use of plant stands with castors. This gives mobility to pots, moving them to avoid heavy rain or to catch the sun.
When growing flowers, use hanging baskets. Attach them to pergola posts, external walls and timber fences.
Container-grown plants cannot take nutrients and water from the soil, so good drainage is important. Choose a high-quality potting mix that has a slow-release fertilizer.
4. Think About Shapes
We recommend geometric shapes for the lawn and patio, however straight lines are a lot easier.
5. Keep It Simple
Like any other small area, if it is too busy then it will look cluttered and unorganized.  Keep things simple and do not add too much to the garden.  You may like to add every plant and tree you love to your small garden but sometimes less is more.  Be selective and be organized, this way you will have a more spacious and attractive area.
6. Be Mindful About The Colors You Use
Adding color to your garden can really improve the appearance, however there is no need to go over board.  Limiting the amount of color to maybe three different shades will brighten up your garden more than enough.
7. Lighting Matters
Not just when you are out there, but for that view from your house.  Do layer the lighting. The first layer's for practicality. Light the paths, steps and sitting areas. Then light any features you have: small trees, water features, wall surfaces and others. And last, add a nice but subtle layer of light at ankle level. This will make the whole place glow. Try mixing and matching for different effects!
8. Give Plenty Of Thought About The Furniture
Depending on what type of furniture you will have in your garden, carefully consider where it should be placed.  Consider what time of day you will use the furniture and will that area get sun.
9. Plant Small Trees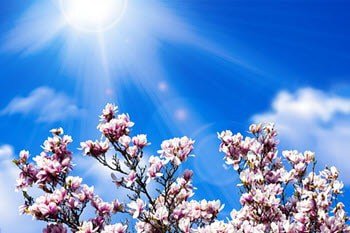 Even in small gardens, it is important to plant evergreens or trees to bring a sense of structure and scale to the landscape. There are many types of dwarf trees that are suitable for tight spaces.
For an edible plant, an olive tree or lemon in a planter or tub would be great. Both are well suited to grow in containers, offering fruit as well as foliage.
Another suggestion is to plant trees that sprout on a smaller scale but are big enough to offer beauty such as weeping Japanese maples or magnolias.
Quick tip: When deciding on a tree, know the mature size to prevent overcrowding in the future.
10. Grow Vegetables And Fruits
A little garden can be a feast for the senses and the table as it's easy to grow veggies into flower beds.
Herbs and veggies do well in pots. Simply because it is easy to position them in the best place for the crop, such as lettuce in part shade and tomatoes in full sun.
This flexibility can also apply to the growing season. Position herbs on a sunny windowsill in spring. And when the weather warms up, move them outside. No transplanting needed.
You may even preserve the harvest by bringing edibles indoors on cool temperatures, once autumn hits.
Quick tip: Grow citrus trees in huge pots to double as a decorative feature.
Common Small Garden Designing Mistakes:
Over-complicating
Over-complicating small gardens is probably the most common mistake. Putting in loads of different materials, plenty of areas and tons of various kinds of plants will lead to a confused (or even chaotic) garden look.
Paving
Be mindful about having similar pavings inside and out. It seems sensible to let the space flow through but actually, the outside paving will weather more and will change color.
Ignoring Drainage Channels And Covers
Watch out for covers and drainage channels around the house. Both of them can be very ugly. There are some brilliant solutions now with narrow channels. As an alternative, get the cover lowered by a few centimeters and cover it over with gravel.
Pulling Up Plants Instead Of Weeds (And Sometimes Letting Weeds Takeover)
Another common mistake is letting weeds take over because they looked like flowers. This is another reason to choose a very limited range of planting. With fewer plant types you'll get to know their appearance much quicker and be able to spot a weed from afar.
And here is the biggest mistake:
Not Doing Anything About Your Garden
Gardens can be wonderful places to relax. Even if you're not a gardener, your garden will give you so much delight if you give it a chance.
Making your small garden look amazing is very doable and once you reach your desired results, you'll surely spend a lot more time in it!